Why Indian Startups Incorporate in Singapore: Complete Guide
The laws of India and Singapore enable an Indian citizen to easily
incorporate a Singapore company
. But why would one do that? What are the benefits of a Singapore company for an Indian citizen or for an Indian company? This guide answers these questions. It describes business scenarios (and provides examples) in which a Singapore company-based structure can be useful for Indian citizens and businesses.
India and Singapore: An Introduction
India and Singapore are important trading partner for each other and their trade relationship is deepening. The two countries share a common history, culture and ethnography. Both trace their social norms and values to South Asian Indo-Chinese cultural patrimony; both were part of the British empire for a long-period; they achieved independence from British rule around the same time; and both were severely underdeveloped countries at the time they became independent. 
But they have followed widely divergent routes since their independence. While India has followed a somewhat meandering yet democratic path from a close socialist economy to a market-based economy, Singapore's resolve to markets has been steadfast, undergirded by a tinge of authoritarianism. India's economic progress has been halting and unsteady, whereas Singapore has become a showcase for economic progress and is now considered to be a premier first-world economy. 
The two countries also offer vastly different business environments. Singapore is a rule-following, corruption-free, market-based economy but India continues to suffer from high-levels of public corruption and nepotism. Singapore and India have adopted vastly different approaches to regulation of their economies: while Singapore promotes a light-touch compliance-based regulatory framework, India still operates a complex, heavy-touch "license raj". The tax systems of the two countries are also quite different too. When the two countries are compared on factors such as political stability, level of crime, rule of law, multicultural harmony, economic stability, foreign reserves, currency stability, and global integration, Singapore scores well above India.
It is for these reasons that a significant number of Indians have either immigrated to Singapore or established strong economic ties with the country - they simply find Singapore to be a more attractive place to live and work. On the other hand, India's 1.3 billion people, two-thirds of whom are below the age of 35, offer a very attractive market and a very large workforce pool for any business. Therefore, the best of all worlds for an Indian business would be a structure that enabled it to utilize the key benefits of Singapore while still maintaining access to the Indian market and its talent pool. Such a structure is quite popular; in fact, it has been utilized by a number of well-known Indians and Indian businesses very successfully, some of whom are household brands, such as, Flipkart, Milaap, Mobikon, InMobi, and Medialink. This article provides detailed information that will enable you to evaluate if such a structure is suitable for you or your company.
Key Benefits of Incorporating in Singapore over India
The key drivers for Singapore's attraction as a business location for Indian companies and Indians in general can be summarized as follows:
The Indian corporate tax rate for domestic companies is 30% whereas the Singapore corporate tax rate is less than 17%.
In India, dividend distribution (paid from a company's post-tax profits) is taxed. But Singapore avoids this double taxation and dividends to shareholders are not taxed.
India imposes a capital gains tax of around 15-20% thereby penalizing entrepreneurship and risk-taking. The capital gain tax rate in Singapore is 0%.
The value added tax (also called GST) ranges from 5% to 28% in India. In Singapore, it is fixed at 7% and many goods and services are exempted from the GST.
No significant tax or other advantages are easily available to startups in India whereas Singapore rolls out a red carpet for startups.
India is one of the world's toughest places to do business and is ranked #77 in the World Bank Ease of Doing Business Report 2019. Singapore is ranked #2.
Both countries have made a committment to deepening the already strong trade ties through accomodative regulations.
Singapore offers a world-class infrastructure and life amenities whereas the quality of life in India can be a challenge, even for its economic elite.
World Economic Forum's Global Competitiveness Report 2016-2017 ranked Singapore 4th in the world and 1st in Asia for having the best IP protection, while India was ranked #42.
Singapore has an extensive network of tax treaties with other countries (including a tax treaty with India) that helps Singapore companies doing international business avoid double taxation of their income.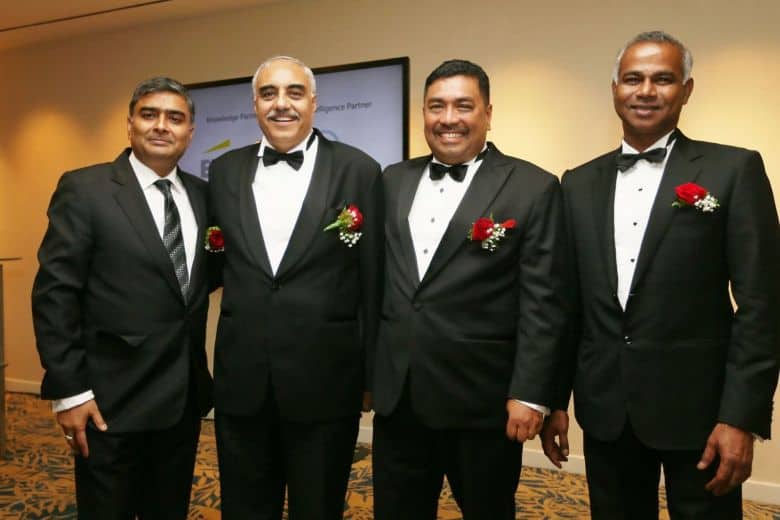 Can an Indian Incorporate a Singapore Company?
Structures for various Scenarios
Absolutely; and the process is quick, simple, and inexpensive. The laws of both countries -- India and Singapore -- permit the full ownership (i.e. the ownership of 100% of the shares) of a Singapore company by an Indian citizen or by an India-based business.  Singapore's corporate law treats Indian citizens just the same as foreigners from any other country. Therefore, the guidelines for
registering a company in Singapore
 by a foreigner apply for Indian citizens and businesses.
In this section, we discuss the various scenarios in which a Singapore incorporated company can be useful for an Indian citizen or an Indian business. In each case, the appropriate business structure is also outlined.
Please note that the information below provides general guidelines which may or may not be suitable for your specific situation. Therefore, before you act on this information, you should seek professional advice. We are happy to provide such help and to help you determine the right solution for your specific situation.
Launching a Startup in India
While the advise to launch an Indian startup in Singapore may seem to be a paradoxical oxymoron, in fact, it is very sound. Some of the most well-known Indian startups (including Flipkart, InMobi, and Medialink) are incorporated in Singapore; and a large cohort of new Indian tech startups is following the same path. There are good reasons for this strategy and these reasons can be best explained by describing the logic behind FlipKart's move to Singapore.
FlipKart's Singapore move was conceived when it was seeking foreign investment for its growth. India's red-tape bureaucracy imposes many specialized rules on various sectors of the Indian economy, including on the retail sector; (in fact, the mere discovery of all such rules is a large task in itself and several well-known firms specialize simply in providing services to help you discover all the rules that will apply to you!). Since Foreign Direct Investment (FDI) is not permitted in multi-brand retail in India, to get around this restriction, the FlipKart founders decided to move their backend operations to a new entity, Flipkart Singapore, and to make its Indian companies (Flipkart India, ekart and WS retail) as subsidiaries of the new Singapore company. Flipkart Singapore was then able to receive foreign investment. It, in turn, loaned the funds to its Indian subsidiaries. But the FDI rules are merely the tip of the iceberg; similar rules hobble an Indian company in myriad other ways (foreign exchange restrictions, rules on import of machinery, prohibition on export of certain products, etc.). They make your company less productive and waste its resources on kafkaesque compliance rules. Furthermore, in the case of Flipkart, there was another very strong ancillary benefit to its Singapore move; the Singapore Government's sovereign wealth fund, GIC, decided to back its Singapore company.
Numerous other Indian startups (especially those in the fields of Information Technology, gaming, social media and mobile) that are seeking foreign investments have adopted a similar structure:
Practo, an online medical appointment scheduler provider,
Knolskape an education software company that delivers management lessons for corporate entities,
Zipdial,
Wotabout,
Of the 50 companies it has helped incubate, Singapore's Joyful Frog Digital Incubator has 12 from India.
The Singapore FDI route has been so well-honed that most experienced VC firms and PE groups will only make investments in an Indian startup through such a Singapore-based structure; otherwise they will not invest. This structure enables these firms to legally avoid paying Indian capital gains taxes in case of an exit and reduce taxes on profits in case those are paid as dividends.
On the capital gains front, the US-based VC firm Sequoia'e experience with Druva is a case in point. Sequoia planned to invest in Druva. To move the firm from India, Druva restructured itself into a new Singaporean firm with an exact mirror of the original Indian company's ownership structure. Sequoia's portion of the equity was then assigned to Mauritian firms rather than Sequoia's Indian investment vehicle, thereby avoiding Indian capital gains tax.
To avoid taxes on dividends, often a loan-dividend scheme is used if the Indian subsidiary makes a profit that needs to be delivered to its investors. If the Indian subsidiary simply declares a dividend, it would be subject to a 15% withholding tax in India. Instead, the subsidiary sets up a loan to the foreign shareholders or to the parent company. The loan amount is not subject to taxes. In the long-run, the loan is either cancelled (and the parent company never pays it back) or adjusted through a future tax-neutral transaction between the parent and the subsidiary.
If you are considering launching a startup in India, you should seriously evaluate if the holding company should be incorporated in Singapore instead of India. If you incorporate in India and later decide to move it from India to Singapore, the process is significantly more expensive and complicated. Instead, incorporating a holding company in Singapore right from the get go is a more efficient and cost effective approach.
International Expansion of India-based Business
If you own a successful business in India that is now looking to expand overseas organically or through acquisitions, a Singapore company can facilitate your plans. Such an approach has the following benefits:
Foreign investment from Singapore can be made to any country in a secure, fast, and confidential manner. That is not the case with India.
Singapore's liberal tax treatment of foreign-sourced income, no tax on capital gains, and no tax on dividends result in significant tax benefits for holding or exiting the investments. Funds generated from such transactions can then be reinvested without a tax penalty. This would not be possible if the investments were made by the Indian company.
Most international countries have a very favorable impression of Singapore as a clean, law-abiding jurisdiction and they welcome investments from Singapore. On the other hand, investments out of India are scrutinized for political corruption, often delaying the approval process.
Singapore is a favored destination of international dealmaking community with a world-class airport and ample hospitality options.
A Singapore company can act as the M&A arm for your business. Singapore has a very robust infrastructure for M&A; nearly all of the world's top investment banks, consulting firms, and accounting firm have a strong presence in Singapore.
Finally, the clean, well-functioning, and efficient legal system of Singapore is another attraction for international deal makers. If any disputes arise between parties, they can be resolved either through Singapore's court system or its extremely effective Alternative Dispute Resolution system.
Holding Company for India-based Business
A holding company is a company that is created to buy and own the shares of other companies i.e. the subsidiaries of the holding company.  The holding company does not produce any products and its only purpose is to provide the financial structure for the business. Often the holding company may own the assets that are used by its subsidiaries.
A holding company structure can be useful when a business is growing and undertaking unknown and unquantified risks. By sandboxing the risks in a subsidiary, the holding company structure can provide risk management and flexibility to the parent and to other subsidiaries. The holding company structure can also provide flexibility in dividing the ownership of the component companies among various parties.
A holding company can also offer significant tax benefits to its owners or to the owners of its subsidiaries. Some of the ways in which that can be done include segregating tax losses or profits in the jurisdictions that provide optimal tax outcomes, obtaining tax incentives by aligning the mission of a subsidiary to the stated policy objective for the tax incentive, tax optimized transfer pricing between the subsidiaries, aligning the tax residency of a subsidiary or the holding company with the domicile (or residency) status of the owners, etc.
A Singapore-based holding company is a very common corporate structure. It is used by many large organizations (e.g. Flextronics, Wilmar, Trafigura, Temasek, and CapitaLand) and in particular, it is quite suitable for subsidiaries that are based in India. Due to the high tax rates of India and its red-tape, investing in an Indian company through a holding company that is domiciled in a tax-favorable jurisdiction offers obvious tax advantages. Furthermore, such a structure provides risk isolation of the subsidiaries i.e. a bad outcome (such as bankruptcy) for one of the subsidiaries will not affect the health of the other components of the business. Singapore's well-functioning legal system provides a very good venue for adjudication of any legal challenges that may arise in future for any subsidiary. Finally, if correctly designed, the holding company structure enables profits from one subsidiary to fuel the growth of other subsidiaries without any tax penalty. A Singapore-based holding company structure can accomplish all of these objectives.
Investing in an Indian Business
Export of Products or Services from India
An Indian business that is serving foreign clients with its products or services can reduce the red-tape associated with its operations by incorporating a Singapore company. The Singapore company (say SINGCO) acts as the distributor for the products or services of the Indian company. The India-Singapore treaties facilitate smooth transfer of products and funds between the two countries and hence between SINGCO and the Indian parent. All international customer dealings are handled by SINGCO, including invoicing and collection of payments from foreign clients. SINGCO remits part or all of these payments to the Indian company on a periodic basis. Given the easy import-export rules in Singapore and the minimal limitations on receiving income from abroad, such a structure can simplify the overall business operations significantly. Furthermore, by correctly setting the transfer pricing for the products (or management fees for the services) between the Indian parent and SINGO, the owners can also optimize their overall tax strategy.
Import of Foreign Products into India
The situation described above for an Indian export-oriented firm applies equally well for an Indian import-oriented firm (say IMPORTCO). IMPORTCO can create a Singapore subsidiary (SINGCO) that acts as its international representative and handles all transactions with its international suppliers. This will minimize the Indian red-tape that IMPORTCO would otherwise have to deal with if it were directly dealing with its foreign suppliers through India. The India-Singapore treaties facilitate smooth transfer of imported products and funds between the two countries and hence between SINGCO and IMPORTCO.
Optimizing IP Transfer Pricing for an Indian Business
If you own intellectual property that has commercial value, you can maximize its long-term economic value by holding the IP in a Singapore company (say SINGIP). The IP is sold or transferred to SINGIP. SINGIP then owns the IP assets and licenses them for use to the parent company (or its subsidiaries) for a fee. The licensees can be located in India or in any other country. The license fees accumulate with the Singapore company under extremely favorable tax rates due to the special treatment given to IP-based companies by the Singapore government.
Furthermore, by establishing a revenue stream for the IP, the Singapore subsidiary benchmarks its long-term economic value. This can facilitate the eventual sale of the IP asset. At the time of such a sale, once again if the asset is owned by a Singapore company, it will result is very significant tax advantage since the sale will be subject to a 0% capital gains tax.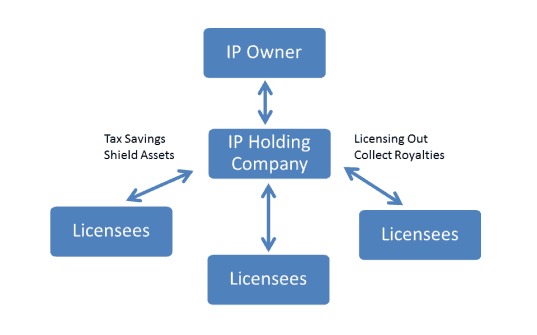 Hiring International Staff for India-based Business
If you are considering making an investment in a company that is based in India, you should consider making the investment through a Singapore-based company. This is certainly the right strategy if you are a non-Indian investment firm or a non-Indian person. But even for Indian investors or for India-based investment firms it may make sense to make such an investment through a Singapore-based entity as explained further in this section.
Prior to April 2017, there were distinct advantages to making such investments through Mauritius; when the shares in the Indian company were sold, the Mauritian company did not have to pay tax in India on its capital gains in the Indian company. However, the double tax avoidance agreement between India and Mauritius which granted this tax exemption has been amended. For shares acquired in India after March 31, 2017, capital gains tax is payable in India on transfer of Indian shares. The earlier loophole in tax treaties had led to a situation where gains from investments into India were taxed neither in India nor in the country where the investing entity was located. The treaty that was designed to avoid double taxation of the same income in two countries had resulted in 'double non-taxation' of the income.
After the amendment, both Mauritius and Singapore jurisdictions have tax treatment parity in India. Therefore, investors must look at the local advantages offered by these two jurisdictions before they choose to make the investment through a Mauritian company or a Singaporean company. On this front, Singapore beats Mauritius hands down. As a result, Foreign direct investment (FDI) in India from Singapore-based companies has increased dramatically since April 2017. In 2018-19, FDI flow from Singapore was US $16,228 million , as compared to US $ 8,084 million from Mauritius. It was the third time that Singapore beat Mauritius in FDI race in India. Furthermore, an analysis of the FDI from Singapore revealed that most of the investors were not native Singaporean companies. Rather they were MNCs and Indian companies who routed their investment through their Singapore subsidiaries. Well established Indian companies, such as Bharti Airtel , Triguna Hospitality Ventures, Flip Kart and Snapdeal have used their Singaporean subsidiaries to make investments in India.
Why is the small country of Singapore the biggest investor in India? What is the main attraction for MNCs to invest through their subsidiaries in Singapore?
The answer lies partially in Singapore's inherent advantages and partly in the bilateral tax treaty between the two countries. India and Singapore entered into a Comprehensive Economic Cooperation Agreement ( CECA) in 2005. This contains the provision of Limits of Benefits. Under this clause, a foreign shell company in Singapore can enjoy the capital gain tax exemption, provided its annual expenditure on operations in Singapore is more than Singapore dollar 200,000 in two years and it is listed in the Singapore Stock Exchange. Under the Singapore – India DTA, capital gains from the alienation of shares in a company are not taxable in the country where the company is located. Such gains are instead taxable in the country where the seller of the shares is resident.
This provision can also create significant tax-savings if the parent is a US company, or allow it to optimize its US taxes. Furthermore, US taxation of the India subsidiary profits may also be avoided if these profits are kept with the Singapore holding company for future investments in Asia. For instance, if profits from the Indian subsidiary are routed through the Singapore holding company to a Thai subsidiary (and no cash moves through the US parent company), no Singapore tax is imposed on dividends from India or from Thailand due to Singapore's foreign-sourced income exemption scheme. No adverse tax consequences are likely to result for the US parent company either. Thus, such a structure can provide the investor the most tax efficient route to grow his or her investment.
An Indian business that is hiring senior level international executives can improve the after-tax take-home pay and benefits package for the executive by hiring him or her through their Singapore subsidiary. The executive is then deputized for the Indian operation and can work in India. Such internal secondment is a very effective strategy for attracting and retaining high-level international talent. But in order to execute such a structure, you must first have a Singapore subsidiary that would hire the executive.
Facilitating International Travel for Indian Executives
Most countries have strict visa requirements for persons who hold Indian passports. These requirements impose a burden when Indian business persons have to travel internationally. However, an Indian passport holder who has a Singapore work visa is viewed favorably by most countries when they are considering granting a visa to such an individual. Therefore, the Indian business can create a Singapore subsidiary and the Singapore subsidiary can then obtain a work visa for the Indian business persons. The work visa would enable the Indian business persons to work in Singapore on an as needed basis and to travel internationally with fewer restrictions. Since this is a rather involved approach, the overall work profile of the business person must be such that it involves significant amount of international travel and work in Singapore to justify such a strategy.
Managing Currency Risk for India-based Business
Indian businesses that have to receive or make payment in a foreign currency run a significant currency risk if the target foreign currency (e.g. Russian ruble or Brazilian real) moves in an adverse direction against the India Rupee. Given the high volatility of Indian Rupee, this risk is very real. It can be hedged using futures or options but those strategies can be rather expensive. An alternate approach is for the business to hold its assets in a stable currency such as USD, GBP, EURO, or SGD and reduce the volatility of its target currencies in the INR pair. This can be achieved by creating a Singapore subsidiary who can then maintain the companies holdings in the desired stable currency. Singapore has one of the most well-run foreign-currency markets, hence it makes a very good jurisdiction for managing such currency risks for your business' treasury operations.
Wealth Management for an Indian HNWI
A family office is a firm set up by a family for the sole purpose of managing that family's wealth. The firm plans the long-term strategy for the acquisition, growth, and disposal of the family's assets and oversees their day-to-day administration. The main objective of a family office is to grow, protect, and safety transfer the assets of the family from one generation to another. A Singapore-based company can be used to create such a Family office. 
In addition to the wealth and asset management functions, a family office often also works with other experts to deliver related services to the family members. These services can span a wide range and they can include legal and tax advise, family trust setup, insurance provision, property and estate management, educational opportunities for children, provisions of high-end medical services, and other lifestyle services (such as, purchase of private jets and yacht, vacation planning, etc.).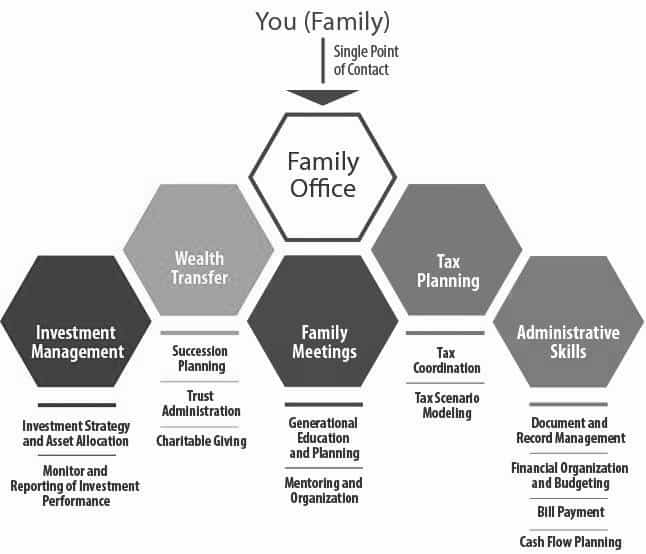 A family office can ensure smooth intergenerational asset transfer and succession planning. It also offers the following advantages:
Clear governance rules for family wealth can be established and consistently implemented.
Diverse assets that may reside in multiple countries can be managed as a single unit.
Risk management, asset protection, and wealth preservation can be outsourced to professional manager through a single point of delegation.
A coherent strategy can be developed that integrates tools such as wills, family office, foundations, residence jurisdiction selection, and lasting Power of Attorney.
Historically, Switzerland has been the preferred jurisdiction for setting up a family office. But in the last decade, Singapore has emerged as the preferred location for Ultra-High Net Worth Individuals (UHNWIs) to establish their family office. Nearly all major global financial firms either have such a presence in Singapore or are quickly establishing it. The choice of location to set up a family office has long-term significance. It must be a place where the interests of the family can be served and safeguarded for the long-term. Particularly UHNWI from China -- who are confronting unfavorable government policies, a slowdown in the economy, a depreciating currency and a the imminent loss financial stability in Hong Kong -- now seek a rule-following, safe, and politically stable jurisdiction to protect and transfer their wealth. Singapore offers these and other benefits:
Singapore provides a politically stable, pro-business environment and has a well respected legal system based on the British Common Law.
Singapore has one of the lowest levels of corruption of any kind among all countries of the world.
The Singapore government through its Economic Development Board (EDB) is activity seeking to attract wealthy investors to the country and has therefore instituted policies that are very friendly to family offices. For example, under the Global Investor Program (GIP) wealthy families who establish a family office can obtain immediate permanent residency status in Singapore.
Singapore's tax regime is designed specifically to incentivize family offices to move to Singapore. Gains on Special Purpose Vehicles (SPV) - whether onshore or offshore - can be tax exempted for funds managed by family offices. Singapore's more than 90 Double Taxation Agreements can further reduce the tax liability of a family offices's global assets.
Singapore offers one of the highest qualities of life in Asia and one of the best education systems in the world.
If you are an India-based family that has accumulated significant assets and you are concerned about its preservation and safe transmittal to the next generation, you should consider Singapore for setting up your family office. You should start by addressing the following issues:
What are your short-term and long-term objectives in setting the family office? This will help your advisers establish the optimal structure for the office.
Identify all the assets that you plan to inject into the family office. These can range from private companies, public companies, real estate holdings to artwork.
What is your investment strategy and risk profile? Is growth the primary objective or is it wealth preservation? Do you want active or passive management?
Will you be applying for Enhanced Tier Fund Tax Exemption Scheme (also called the Section 13X tax exemption)? If so, there are other requirements that your advisors must address.
What will be the profile of the office? Will you be publicly associated with the family office or do you want to keep your relationship discreet?
What are your succession planning tools and how will they integrate with the family office?
Do you have any philanthropic objectives that you want to integrate with the family office?
Singapore Immigration by setting up a business
Many established Indian entrepreneurs find it very attractive to immigrate to Singapore for a variety of reasons; these include that Singapore:
Is better for business.
Has a better quality of live.
Has better opportunity for children.
"Feel like home" compared to many other western countries.
Is quite close to India.
Wecomes them with open arms through its Entrpreneur Pass and Employment Pass schemes.
Is a great place to retire.
A Singapore company can be useful and versatile platform for an Indian business or an Indian person in many ways. This article outlines some of them. But this is a vast and complex topic. If the situations described here resonate with you, we encourage you to explore this topic more carefully and evaluate the suitability of a Singapore company for your individual circumstances.  Many sophisticated Indian entrepreneurs (including Binny Bansal, the founder of FlipKart) are already making this move.
Headquartered in Singapore, CorporateServices.com empowers global entrepreneurs with information and tools necessary to discover Singapore as a destination for launching or relocating their startup venture and offers a complete range of company incorporation, immigration, accounting, tax filing, and compliance services in Singapore.
Contact Us if you are interested in learning more about how to incorporate a company in Singapore or if you would like to transfer the administration of your existing company to us.