Your
Singapore venture starts here
Simplify the incorporation and compliance of your Singapore company. Use our innovative and easy-to-use online platform. It will intelligently coordinate everything between you, our corporate services team and government systems.
Easier. Faster. Better.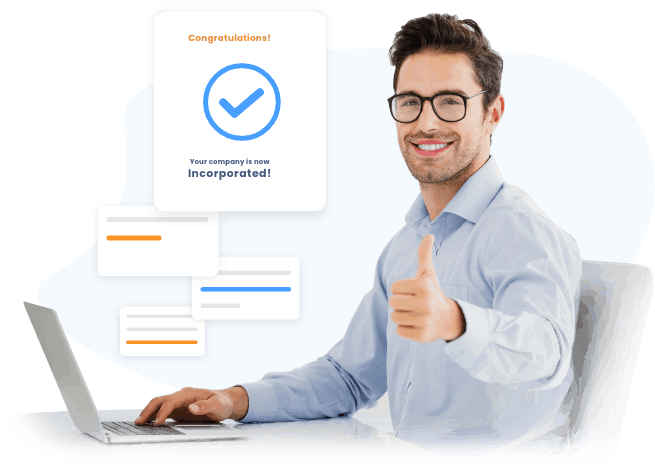 Trusted by thousands of innovative global companies to launch their Singapore ventures.
A Smart Platform
Do
everything
online. No more paper-shuffling.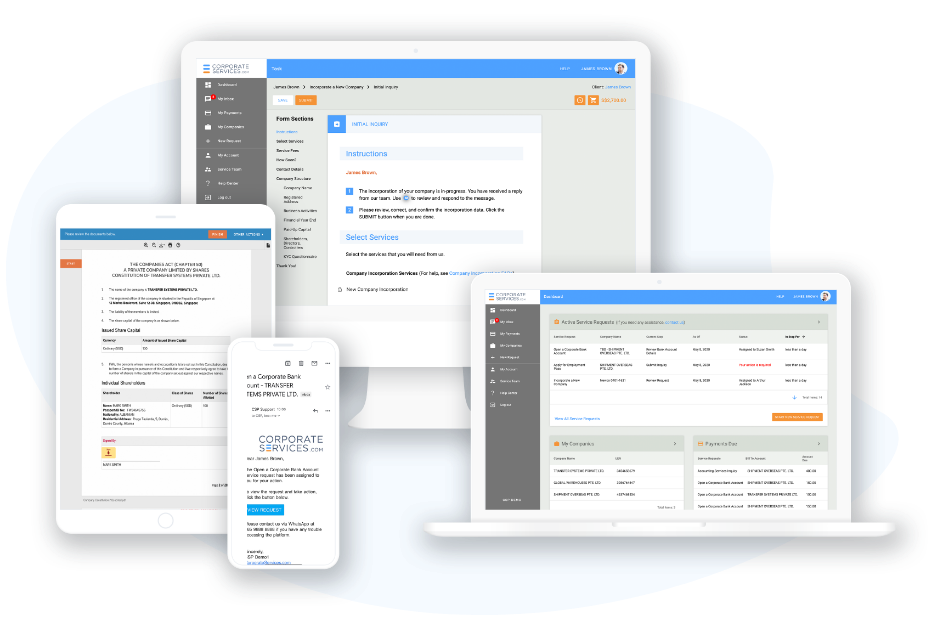 Initiate
Order, clarify, and approve all service requests online.
Collaborate
Collaborate with our team online to get things done faster and easier.
eSign
Forget about notarizing and couriering your documents. Review and eSign all documents online.
Monitor
Track the progress of your request and get real-time status notifications online. No need for phone calls or emails.
Manage
All your company documents, statutory registers, transaction history, in-progress tasks, payment records are just a click away. Access them online securely – anywhere, anytime.
… and Relax
Let our platform take charge of the regulatory burden of your company while you focus on growing your business.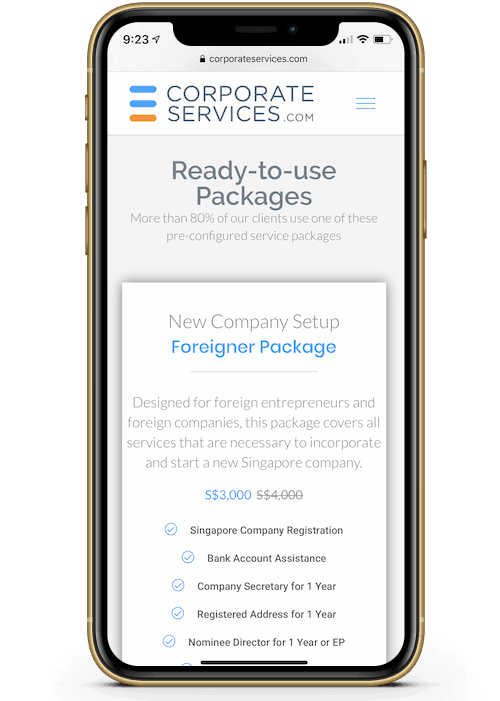 Transparent prices that don't sting
Review our fees to estimate the initial setup and annual maintenance cost for your company.
Fixed and transparent prices
Estimate your fees beforehand
Clear and concise guides
to help you make better decisions
What our clients say…
"Amazing team, fantastic platform and superb service! I learned my lesson the hard way - incorporated with another company, got frustrated with their poor service, legacy systems and silly automated bots, then switched to CorporateServices.com. Should have started here."
"Company incorporated, bank account opened, employment pass approved - thank you guys! I am very impressed with the smooth manner and quick pace at which everything was done. I explored several service providers in Singapore but am very glad to have finally engaged your team. Your online platform is awesome - it makes it very easy for me to work with your team and access my documents."
Oliver Weiss
CEO, D2G Pte. Ltd.