The pandemic has inspired numerous persons to become their own bosses and embrace entrepreneurship. The proof of that is the number of new businesses incorporated in Singapore. In just the first six months of 2021, about 23,000 new companies were incorporated in the country, 20 percent more than during the same period in 2020. Of all the sectors, the retail trade industry saw some of the most significant growth, largely driven by more consumer shopping during the period. Even the beleaguered food and beverage sector, which was repeatedly hit by restrictions, saw a 37 percent increase in the number of companies formed. What's the reason?
One likely factor is the billions of dollars in Singapore government support made available via grants and special programs for businesses. One such support package was introduced by the Ministry of Finance on July 23, 2021. It is worth S$1.1 billion and aims to help businesses and employees affected by the latest restrictions. The fund covers a jobs support scheme for sectors such as restaurants and gyms, as well as those in the retail and entertainment sectors. Other measures include support for local retailers to get on-board with local online retail platforms.
If you are considering starting a new business, Singapore may be the best choice for you. Please contact our CorporateServices.com team, who will be happy to assist you with all your incorporation needs.
This blog post highlights recent regulatory updates and business assistance programs introduced by the Singapore government. We will also list a few Singapore startup success stories and review other business-related news that may be useful for Singapore-based business executives or investors.
Business update
Singapore tops global ranking of tech innovation hubs
According to the 2021 KPMG Technology Industry Survey, Singapore has been recognized as the leading technology innovation hub outside of Silicon Valley in 2021. In the KPMG release dated July 16, 2021, six of the Top 10 hubs were from the Asia Pacific region. Singapore was followed by New York City, Tel Aviv, Beijing, London, Shanghai, and Tokyo. Also making it to the top 10 were Bengaluru (Bangalore), Hong Kong, Austin, and Seattle.
The report says the cities that made it to the Top 10 all had strong innovation ecosystems even before the pandemic. Among the top criteria seen as important in the global ranking are urban locales that attract young professionals, a pipeline of skilled talent, and modern infrastructure including high-speed bandwidth. Other reasons include having at least one research-intensive university, positive democratic growth trends, and lucrative tax and other government incentives.
Ling Su Min, who is a partner and head of Clients, Markets, and Innovation at KPMG in Singapore, said the country's accomplishments as a leading tech innovation hub have been part of the country's strategic vision. He added that Singapore leverages other strengths the nation has built consciously, such as its reputation as a global financial hub and a critical gateway for businesses to access the rest of Asia.
MAS launches Global Veritas Challenge to accelerate innovation in financial-sector AI solutions
On July 12, 2021, the Monetary Authority of Singapore (MAS) announced the launch of the Global Veritas Challenge. This competition seeks to accelerate the development of solutions that validate the use of Artificial Intelligence and Data Analytics (AIDA) in keeping with Fairness, Ethics, Accountability, and Transparency (FEAT) principles, to strengthen trust and promote greater adoption of AI solutions in the financial sector.
FinTech firms, solution providers, and financial institutions around the world are invited to submit innovative solutions to address eight problem statements identified by banks. These problem statements focus on validating the fairness of AI solutions for selected banking use cases in (i) product marketing; (ii) risk, compliance, and fraud monitoring; (iii) loan origination and Know-Your-Customer (KYC); and (iv) credit scoring and profiling.
Up to 10 finalists will be shortlisted for a programme in which they will develop customised solution prototypes under the guidance of industry leaders. Finalists will pitch their solutions during the Global Veritas Challenge Demo Day on October 20, 2021, as part of the Singapore FinTech Festival (SFF). Up to three winners will be selected, with each receiving a cash prize of S$50,000. The winners will showcase their projects to a global audience during the SFF, which will be held on November 8–12, 2021. You can find more information about the Global Veritas challenge on the MAS website.
Extended government support for lending by banks and finance companies to SMEs
On July 5, 2021, MAS announced that it would further extend the Government program called SGD Facility for ESG Loans (the Facility). This incentive was established in April 2020 to provide low-cost funding for banks and finance companies that grant loans to SMEs. On October 12, 2020, it was extended to September 30, 2021. And now the Facility is further extended to March 31, 2022.
This program will continue to provide funding at an interest rate of 0.1% per annum for a two-year tenure to eligible banks and finance companies participating in the ESG Loan Schemes, namely the Temporary Bridging Loan Programme and the SME Working Capital Loan.
Since its introduction in 2020, the Facility has disbursed a total of S$13.3 billion to financial institutions in support of their lending activities.
Find more details about the MAS SGD Facility for ESG Loans on MAS website.
Regulatory update
Merger of ACRA, SAC, and ASC Secretariat
On July 1, 2021, the Ministry of Finance (MOF) announced it would merge its accountancy-related units in the Accounting and Corporate Regulatory Authority (ACRA), the Singapore Accountancy Commission (SAC), and the Accounting Standards Council (ASC) secretariat into a single-function entity from the second half of 2022.
Currently, the Singapore government's accountancy-related functions are housed in the mentioned three entities: ACRA registers and regulates public accountants, business entities, and corporate service providers; SAC develops the accountancy sector and oversees the Chartered Accountant of Singapore designation as well as the latter's Singapore Chartered Accountant Qualification programme; while ASC sets accounting standards for companies, charities, societies, and co-operative societies.
The merged entity will encompass the enlarged functions and will be overseen by Ong Khiaw Hong, the chief executive of ACRA. The new entity will retain the name ACRA as it is well-recognised by accountancy and business stakeholders.
Proposed changes to the regime of transparency and beneficial ownership of Singapore companies and LLPs
The Ministry of Finance (MOF) and the Accounting and Corporate Regulatory Authority (ACRA) are proposing changes to the Singapore Companies Act and the Limited Liability Partnerships Act (LLP Act).
The proposed changes are set out in the draft Corporate Registers (Miscellaneous Amendments) Bill (CRMA Bill). They comprise 4 key amendments relating to transparency and beneficial ownership of companies and LLPs. These changes are meant to reduce opportunities to misuse corporate entities for illicit purposes, and are in line with international standards for combating money laundering, terrorism financing and other threats to the integrity of the international financial system.
Below are the key proposed changes:
Local and foreign companies, as well as LLPs, will be required to enter the particulars of the individuals with executive control in their registers of controllers if no individual or legal entity having significant interest in or significant control over the company or LLP has been identified;
Local and foreign companies will be required to keep non-public registers of nominee shareholders;
It will be clarified that local companies should update their register of nominee directors within 7 calendar days after receiving information and particulars from the directors; and
A 14-day timeframe will be specified for foreign companies to update their register of shareholders.
These amendments will be considered by the parliament after the end of public consultation, which is taking place July 2–30, 2021. You can find the full version of the bill.
Reminder to file Annual Returns
Under the Companies Act, all Singapore-incorporated companies are required to file Annual Returns (AR) with ACRA to ensure that the company's information on ACRA's register is up to date. The company must also submit the date of its Annual General Meeting (AGM) if it has held its AGM, as well as the company's financial statements (if required). Company officers may face enforcement action for failing to file their company's AR.
To avoid such penalties, ACRA reminds Singapore companies to file the ARs by the following deadlines:
| | | |
| --- | --- | --- |
| | Listed companies | Non-listed companies |
| All companies | Within 5 months after FYE | Within 7 months after FYE |
| Companies having a share capital and keeping a branch register outside Singapore | Within 6 months after FYE | Within 8 months after FYE |
You can file Annual Returns in BizFile+ portal or file seamlessly using accounting software jointly developed by software vendors and ACRA to automate the preparation and filing of AR with ACRA. Of course, you are always welcome to subscribe to the services of professional corporate services providers, such as CorporateSevices.com. Please contact our team if you need any assistance with your company's compliance issues.
Startup update
Valar Ventures leads Syfe's US$30 million Series B investment round
Launched in July 2019, Syfe is a Singapore-based digital wealth management startup. The company's activities are licensed under MAS. Syfe seeks to help people make smarter financial decisions. Their platform enables users to create personalised and professionally managed portfolios with simple steps. Clients get access to the company's wealth advisors and an intuitive investing experience that Syfe claims is low-cost and hassle-free.
On July 14, 2021, the company announced that it had closed its Series B funding round of S$40 million led by Valar Ventures, the US-based VC firm co-founded by Peter Thiel. Existing investors Presight Capital and Unbound also participated. With this latest round, Syfe's total capital reached US$52.6 million.
The fresh funds will be used by the wealth-tech startup to expand into new markets in Asia, invest in top talent, and develop new products and services. The company has also announced it is making all of its employees shareholders of the company.

Tinvio secures US$12 million to help companies manage their trade accounts through chat
Launched in 2019, Tinvio is a Singapore-based startup that created a communication and commerce platform. The company aims to help small and mid-sized companies keep track of their orders, accounts, and receivables through a chat-led interface. In addition, Tinvio localises payments solutions for its operating markets by building modularised integrations with regional payment gateways. These opportunities allow the client to focus on user experience and scale the payments stack beyond borders in a capital-light model.
On July 15, 2021, the company announced the close of a US$12 million Series A funding round led by AppWorks Ventures and MUFG (Mitsubishi UFJ Financial Group) Innovation Partners, bringing Tinvio's total raised funds to US$18.5 million. The other investors that participated are Sequoia Capital India's Surge, Global Founders Capital, and Partech Partners.
The newly raised funds will be used to accelerate product development on Tinvio's financial technology stack, and fire up growth engines to scale the solution across new segments and markets. The company also plans to expand to three new markets this year.

Vara raises US$4.8 million to provide easy workforce management solutions for businesses
Founded in November 2020, Vara is a Singapore-incorporated startup that created a staff management platform for small businesses in Southeast Asia. The company aims to transform how small companies manage their staff. Their product, Bukugaji, is directed towards the Indonesian market and claims to have serviced the staff management needs of over 100,000 small and medium businesses. The platform allows business owners to quickly track staff attendance, tabulate salary and loans, generate payslips, and disburse payroll within a few minutes.
On July 13, 2021, Vara announced that it had secured US$4.8 million in a funding round. Participating investors are Go Ventures, RTP Global, Alpha JWC Ventures, Sequoia Capital India's Surge, FEBE Ventures, and Taurus Ventures.
Co-founder Abhinav Karale said the ultimate goal of Vara is to deliver more time, energy, and money into the hands of SMEs and their staff. This funding round would enable the company to continue developing its products and serving users with a growing set of value-added features to accomplish that goal.
About CorporateServices.com
Headquartered in Singapore, CorporateServices.com, empowers global entrepreneurs with information and tools necessary to discover Singapore as a destination for launching or relocating their startup venture and offers a complete range of company incorporation, immigration, accounting, tax filing, and compliance services in Singapore. The company combines a cutting-edge online platform with an experienced team of industry veterans to offer high-quality and affordable services to its customers. Contact Us if you need assistance with setting up a new Singapore company or if you would like to transfer the administration of your existing company to us.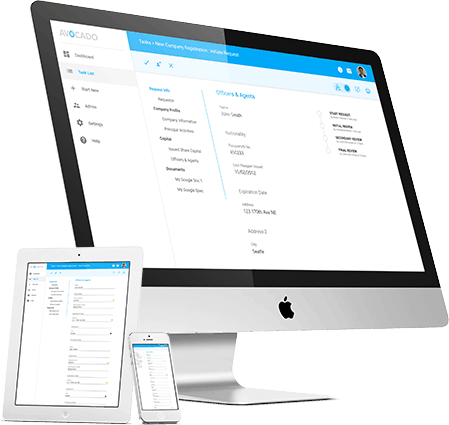 Considering Singapore?
Experienced team. Affordable cost. Online platform.
Interested?