This report covers recent news about important regulatory changes, fundraising activities of promising Singapore startups, creation of new government incentives aimed at supporting fresh startups, and other business-related news that may be interesting for Singapore-oriented businessmen and investors.
Singapore continues to be one of the world's most business-friendly countries. With great global connectivity, easy access to top-quality talent, well-developed research organisations, and pro-business regulations, and robust infrastructure, the country is an ideal place to launch your startup. Because of its robust and fast response, Singapore has the lowest coronavirus fatality count globally. As of December 29, the Southeast Asian nation only reported 29 deaths among more than 58,000 people who have been infected with COVID-19. In 2020, the World Bank's Ease of Doing Business Index ranked Singapore as the second easiest place to do business and fourth in the world for starting a company. In Singapore, you can enjoy good funding support, with venture capital funding increasing steadily beyond US$1 billion yearly. There are abundant opportunities for a startup to co-innovate with government agencies and multinational corporations through incubation and venture activities. Firms that have set up digital and innovation hubs in Singapore include IBM, Accenture, UOB and HSBC banks, and many others. If you are thinking about launching your own company in Singapore, contact our team.
Startup update
Speedoc bags US$5M to drive faster adoption of digital health services
Founded in 2017, Speedoc is a Singapore-based startup that created a digital health app. The solution operates as a platform that combines offline and online services to provide healthcare to patients in their homes. Their services include house call doctors, telemedicine, and remote health monitoring, among others.
In December 2020, Speedoc secured S$6.7 million (US$5 million) funding in a Series A round, led by Vertex Ventures. Other investors that joined the round include Decacorn Capital and Global Grand Leisure.
As the company declared, the capital will be used to finance their technological advancement initiatives in Singapore to drive faster adoption of digital health services locally. This includes rolling out virtual hospital schemes and working with industry partners for clinical validation of proprietary clinical pathways. The fresh funds will also enable Speedoc to enhance its proprietary Chronic Disease Home Management service and aid in its plans to expand to other markets in SEA. In addition, Speedoc will use Artificial Intelligence and Machine Learning to create personalised treatment plans.
Neuroglee raises US$2.3M to strengthen fight against Alzheimer's
Launched in 2020, Neuroglee Therapeutics is a Singapore-based health tech startup. The firm designs and commercialises digital therapies to fill the unmet need for complementary therapies to manage neurodegenerative diseases that can run in parallel with pharmacotherapy, or treatment through medication. Combining closed-loop cognitive intervention strategies and novel biomarkers, the company claims its prescription software can be used independently and in conjunction with pharmacotherapy for better patient management, creating a more holistic approach to treatment for neurodegenerative diseases.
Neuroglee's product, NG-001, is designed to manage patients with early-stage Alzheimer's by delivering software-based cognitive intervention at home. Using Artificial Intelligence, the software deploys engaging gamification techniques and cognitive tasks on a digital tablet. The solution constantly tracks a patient's cognitive function using digital biomarkers and dynamically personalises tasks and intervention for the person. The technology also uses images from the person's past to evoke positive memories and emotions, which have been shown to improve cognitive function and reduce depression and anxiety when used in tandem with other cognitive behavioural therapy techniques.
On December 3, 2020, the company announced it had secured US$2.3 million in pre-seed funding. The round was led by Eisai, a Japanese global pharmaceutical company.
Fresh funds will be used to advance NG-001 product development. Clinical trials are due to start in early 2021, and the startup plans to open its US operations in Boston in 2021.
SolarHome secures US$2M to grow the customer base of its pay-as-you-go solar solution
Founded in 2016 by FORUM, a Singapore fintech venture builder, SolarHome is a Singapore-based firm that offers pay-as-you-go solar solutions in SEA. The company provides off-grid households with a solar lighting system on a low-cost, 24-month subscription plan, with an initial US$10 down payment, followed by daily, weekly, or monthly repayments through scratch cards or mobile money. The app ensures that the technology won't function if a payment is not made, making lenders sure that they will be able to recover their investment.
SolarHome estimates that it eliminates 140kg of carbon dioxide emissions per year and 1.45kg of black carbon, as the company stands for battling greenhouse effects in the crucial fight against global warming.
On December 10, 2020, the company announced that it had raised US$2 million in a Series A extension round, led by existing investors TRIREC and Insitor Impact Asia Fund. New investors also joined the round. They are Anthem Asia Myanmar SME Venture Fund and DPI Energy Ventures (renewables-focused investment funds in APAC).
The fresh funds will be used to scale the startup's solution, as it pushes towards the next stages of growth of offering its product to a much larger customer audience.
Business update
Singapore's 2020 performance: SPOR Review
The Singapore Public Sector Outcomes Review (SPOR) is an intriguing snapshot of the country's progress. The biennial report, published by the Ministry of Finance, takes stock of how Singapore has fared in key areas of national interest, such as life expectancy, education, and ease of doing business.
According to this year's report, Singapore continues to be one of the most pro-business countries globally. There are many things Singaporeans can be proud of:
In 2020, the World Bank's Ease of Doing Business Index ranked Singapore as the second easiest place to do business and fourth in the world for starting a business. It takes just 1.5 days to start a new venture in the country, and new rules have been adopted, such as the Accelerated Initiative for Artificial Intelligence (AI), which allows innovators to obtain an AI-related patent in just six months, down from four years — a definite necessity in a field as fast-moving as AI.
The country has been ranked as the safest nation in the world by Gallup's Global Law and Order Index, for the seventh year running.
More than 90 per cent of children are enrolled in preschool by the age of five, with the government committed to ensuring that every parent who wants a preschool place for their child can get one.
Obviously, Singapore remains a great place for doing business, and the most open and competitive economy in the world. You may find the full version of the report on the MOF's website.
Government launches a new blockchain innovation program with S$12 million in funding
On December 7, 2020, Enterprise Singapore (ESG), Infocomm Media Development Authority (IMDA), and the National Research Foundation Singapore (NRF), supported by the Monetary Authority of Singapore (MAS), launched a S$12 million Singapore Blockchain Innovation Programme (SBIP) to further strengthen Singapore's blockchain ecosystem.
Funded by NRF, this national effort aims to align blockchain technology research with the needs of the industry, to facilitate the development, commercialisation and adoption of wider real-world applications. This industry-driven initiative will engage close to 75 companies, including MNCs, large enterprises and ICT companies, to conceptualise 17 blockchain-related projects within the next three years, in sectors starting with trade and logistics, and supply chain. You can find more details on the programme.
Singapore-bound billionaire James Dyson plans US$3.6 billion investment into batteries and robotics
James Dyson is a British inventor, industrial designer, landowner and founder of Dyson Ltd, the British electric appliances company. Recently, the company announced it plans to make new investments in products focused on energy, storage robotics, artificial intelligence, machine learning, connectivity, and material science over the next five years.
The company will invest more than US$3.67 billion in research and development of products outside the "home environment." The fresh money will be invested mainly in Singapore, the UK, and the Philippines. New hires of engineers and scientists are in the pipeline, with expertise in the fields the company intends to expand.
In Singapore, Dyson will also establish a new university research program to drive product development, building on its existing global programs.
Billionaire Ray Dalio to open a family office in Singapore
Ray Dalio is an American billionaire with a net worth of over US$15 billion and the founder of the well-known asset management firm Bridgewater Associates. Recently, the businessman announced he would join the likes of James Dyson and the founders of Chinese hotpot chain Haidilao and open a family office in Singapore to run his investments and philanthropy throughout the region. Dalio has long held ties to Southeast Asia (SEA) and Singapore and felt it was "high time" to open a family office in this country.
Family offices handle the wealth of very rich individuals. This industry grew in assets under management from about $4 trillion in 2017 to $5.9 trillion in 2019, according to market research firm Campden Research.
Singapore's efforts to attract more family offices include tax incentives and a Global Investor Program that gives the super-rich a path to permanent residence.
Grab-Singtel and Ant Group win digital bank licenses
On December 4, 2020, Singapore's central bank, the Monetary Authority of Singapore (MAS), granted four companies, including Ant Group and Grab, licenses to launch digital banks, in a move that would allow the fin-tech giants to expand their financial services offerings.
A total of 21 entities, including TikTok-parent firm ByteDance, had applied to obtain a digital license; of those, 14 met the eligibility criteria. Tech giants see a major opportunity in expanding to financial services as a way to supercharge their revenue in the rapidly growing region.
The other two licenses went to an entity wholly owned by internet giant Sea, and a consortium of Greenland Financial Holdings, Linklogis Hong Kong, and Beijing Cooperative Equity Investment Fund Management.
Like traditional banks, Grab-Singtel and Sea will be able to offer customers banking accounts, debit and credit cards and other services. Digital wholesale banks — the licenses of which went to an Ant-owned entity and Greenland Financial consortium — will serve small and medium-sized businesses. None of the winners will be required to have a physical presence in Singapore. Find more information on financial services licensing and regulations in Singapore in our recent guide.
Regulatory update
ACRA to extend the effective date for revised XBRL requirements
Since 2014, the Singapore government has required companies to file their financial statements in eXtensible Business Reporting Language (XBRL) format. At the same time, certain companies are exempt from preparing financial statements in XBRL, including Exempt Private Companies (those having no more than 20 shareholders, all of whom should be individuals).
In May 2020, the Accounting and Corporate Regulatory Authority (ACRA) announced revised filing requirements for entities obliged to file financial statements in XBRL, to take effect January 1, 2021. The new requirements allowed companies to adopt the revised XBRL requirements voluntarily when filing financial statements starting May 16, 2020, until December 31, 2020. The revisions were part of ACRA's continual efforts to streamline the filing process. For example, the number of data elements businesses need to file with ACRA was reduced in the updated XBRL version.
In view of the challenging economic situation amid the COVID-19 pandemic, ACRA is now providing a one-off extension, giving companies more time to adopt the revised filing requirements and data elements, as follows:
Companies are required to apply the revised XBRL filing requirements and data elements from May 1, 2021; and
Companies can opt to voluntarily adopt the changes up till April 30, 2021.
ACRA urges all entities to voluntarily adopt the revised filing requirements early, as most would benefit from the reduced number of data elements required under the new rules.
The updated BizFile+ Portal now available
BizFile+ is ACRA's online filing and information retrieval system. It enables the public to access a suite of over 300 electronic services, ranging from submission of statutory documents to retrieval and purchases of information pertaining to business entities registered with ACRA.
BizFile+ was undergoing a major system upgrade December 10–15 and was not available. Now the portal is back online and mobile-ready, making it easier for users to access the service anywhere at any time through a mobile device.
As BizFile+ is now available directly on mobile devices, the ACRA-On-The-Go app has been discontinued. It has been removed from the Apple App store and Google Play Store and will no longer be supported. Users can log in to the BizFile+ portal at www.bizfile.gov.sg to continue filing transactions with ACRA.
The CorporateServices.com team can help you with filing any statutory reports to relevant government bodies and assist you with all other compliance issues.
Register of Registrable Controller transaction is scheduled to resume in February 2021
Effective from July 30, 2020, all Singapore companies and Limited Liability Partnerships (LLPs), unless exempted, are required to lodge the information maintained in their Register of Registrable Controllers (RORC) with ACRA's central non-public register, in addition to maintaining their own RORC, either in their registered office address or at the office of their authorised filing agent.
The "Update Register of Registrable Controllers (RORC)" function on the BizFile+ portal was suspended in September 2020 and will remain suspended until January 2021. It is scheduled to resume in February 2021, and companies and LLPs have until June 30, 2021, to lodge the RORC information with ACRA.
ACRA encourages CSPs to embrace technology
On November 18, 2020, the 5th Corporate Services Providers (CSPs) Conference took place in Singapore, with about 280 CSPs attending. The theme of the conference was "Corporate Service Providers in the New Normal." At the event, ACRA's Chief Executive, Mr Ong Khiaw Hong, in his keynote address urged the CSPs to digitise their services and innovate to speed up the pace of transformation in the CSP sector. Mr Ong reiterated the need for CSPs to continue to upskill and raise the professional standing of the sector, and to remain vigilant against money laundering and terrorism financing. ACRA officers also shared best practices to combat money laundering and terrorism financing.
We wish you a very Happy Holiday season and a prosperous New Year!
About CorporateServices.com
Headquartered in Singapore, CorporateServices.com, empowers global entrepreneurs with information and tools necessary to discover Singapore as a destination for launching or relocating their startup venture and offers a complete range of company incorporation, immigration, accounting, tax filing, and compliance services in Singapore. The company combines a cutting-edge online platform with an experienced team of industry veterans to offer high-quality and affordable services to its customers. Contact Us if you need assistance with setting up a new Singapore company or if you would like to transfer the administration of your existing company to us.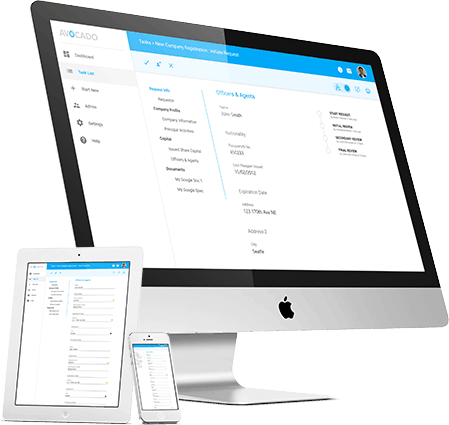 Considering Singapore?
Experienced team. Affordable cost. Online platform.
Interested?