In this post, we review recent business news that may be useful for Singapore business executives or investors, as well as COVID-related updates and updates on travel restriction measures. Also, we outline the success stories of Singapore-based startups that have managed to grow and expand, with the help of government incentive opportunities and the country's business-friendly policies that promote the growth of local SMEs.
In January alone, 3,684 local and foreign companies were incorporated in Singapore. Of these, 760 were in the information and communications sector, 704 in the financial and insurance sector, and 691 in the wholesale trade sector. Compared with the previous month, incorporations in the professional services sector have risen significantly, from 765 in December to 839 in January.
Update on COVID-19 and the Travel Situation in Singapore
Singapore's high vaccination coverage of 92% and strong booster program have helped to protect the country's population and slowed the spread of Omicron. As a result, despite the wave of Omicron cases, Singapore continues to reduce travel restrictions and quarantine measures in the country. Under the relaxed measures, the government has reduced isolation periods, testing rules for travelers under the vaccinated travel lanes (VTL), etc. Nevertheless, social distancing measures still remain.
From January 20, 2022, Singapore resumed flights from all VTL countries after the ban the country imposed on December 23 in an attempt to prevent more Omicron infections. Also, on January 5, 2022, the Ministry of Health announced recommendations to urge citizens to receive vaccine booster shots.
Before arranging a trip to Singapore, you should make sure you are aware of all the current travel restrictions and entry requirements for your country as well as the Singapore safety measures. For information about vaccination requirements, visit this government page. You can also use this helpful tool to check your eligibility to travel to Singapore.

Fintech Platform Airwallex Launches Global Payment Services in Singapore
On January 13, 2022, the Airwallex global financial services platform launched its payment services in Singapore. Earlier, in November 2021, Airwalex obtained a Major Payment Institution License from the Monetary Authority of Singapore.
"Singapore has established itself as a major international hub for global technology and innovation, supported by a dynamic business community across startups, major financial service institutions, and a growing talent pool."

Nazim Ali, CEO of Airwallex Singapore
Airwallex was founded in 2015 in Melbourne. Since then the company has raised nearly US$800 million in funding and reached its total valuation value to US$5.5 billion. Airwallex today operates across Asia-Pacific, Europe, and North America in 19 locations and has about 20,000 customers.
The company's main aim is to ease the complexities of cross-border payments that Singapore businesses are still facing with international payments. The company also has a plan to scale its solutions across Southeast Asia. Singapore businesses can now exploit Airwallex's worldwide account opening services, domestic and cross-border money transfers, multi-currency wallets, and online payments acceptance services. Also, the company's worldwide customers will be able to receive funds in local currency, which makes their businesses more accessible to the country's market.
MAS Imposes a S$1.1 Million Fine for Failure to Comply With AML Requirements
On January 20, 2022, the Monetary Authority of Singapore (MAS) fined Singapore trust company Vistra Trust for failure to comply with Anti-Money Laundering (AML) and Countering the Financing of Terrorism (CFT) rules. Founded in 2006, Vistra Trust is a licensed company that provides business activities related to the creation of trusts and other relevant services.
"Financial institutions play a critical role in guarding against the risk of illicit financing activities in Singapore. Boards and Senior Management of trust companies must ensure that higher risk trust accounts are identified and subject to robust AML and CFT controls. MAS will take strong actions against any financial institution that fails to meet our regulatory standards for anti-money laundering."

Ms. Loo Siew Yee, Assistant Managing Director, MAS
MAS carried out its investigation in 2019 and revealed that the company did not conduct proper due diligence to determine whether the clients or other parties complied with the AML and CFT requirements during the 2013-2019 years. Mainly, the company did not establish the settlers' source of wealth and source of funds. Also, as a result of MAS's investigation, some high-risk customer accounts were identified. MAS imposed a fine of $1.1 million for these breaches and ordered it to take remedial actions to address the risks that led to such breaches.
Singapore Launches First SPAC Listings
On January 20, 2022, four months after the Singapore Exchange eased listing rules for special purpose acquisition companies (SPACs), Singapore's first blank check company started trading on the country's stock exchange. Under the rules introduced last September, the Singapore Exchange allowed SPACs to list on its mainboard, as long as they have a minimum market capitalization of S$150 million and then de-SPAC within 24 months following the initial public offering (IPO).
Vertex Technology Acquisition Corporation led Singapore's first-ever SPAC listing. The company raised US$148 million from investors, including Venezio Investments and Fullerton Fund Management, and plans to invest freshly raised funds in fintech and artificial intelligence fast-rising tech startups. Another SPAC listing brought Pegasus Asia S$150 million, which the company plans to invest in tech-driven sectors.
SPACs have recently gained a lot of traction as a way to generate funds from investors in order to buy one or more running businesses. They raise money through an IPO and use them to merge with a private company in order to take the company public without having to go through the lengthy IPO procedure.
Singapore's government believes the SPAC framework is here to stay and augments the traditional IPO route. Becoming one of the first in Asia to permit such listings allows Singapore to draw global companies to its stock market, helping the city to emerge as a competitive financial hub with high trading volumes.

HR Software Startup Darwinbox Achieves Unicorn Status
By raising US$72 million in Series D funding, Darwinbox, a Singapore-based human resources startup, reached a US$1 billion valuation and achieved unicorn status. The funding round was led by Technology Crossover Ventures, along with participation from existing investors JG Digital Equity Ventures, Salesforce Ventures, Sequoia Capital India, Menlo Park-based Lightspeed Venture Partners, Endiya Partners, and Gokongwei Group.
Founded in 2015, Darwinbox is an AI-based human resources software company. It uses machine learning to automate routine processes in human resources management. Darwinbox's platform aims to digitalize and automate the entire hiring process. The company operates in more than 90 countries already and has over 700 employees.
The raised funds will be used to accelerate the company's innovation platform, improve its product, engineering, and customer success teams, scale its market presence in Southeast Asia, the Middle East, and North Africa, and expand globally. Darwinbox's team said that the company plans to go public by 2025.

Singapore Startup SESTO Robotics Gets US$5.7 Million in Funding
In January 2022, Singapore's industrial robotics startup has obtained US$5.7 million from Seeds Capital, a wing of Enterprise Singapore, venture capital firm TRIVE, and German investment company World Trading Innovation (WTI).
Founded in 2017 in Singapore, SESTO is a leading company in providing autonomous mobile robots and applications for industrial, healthcare, and commercial facilities that automate delivery and material handling procedures with cutting-edge intelligent technology. Last year, at the height of the pandemic, the company released its own HealthGuard, a self-navigating robot capable of disinfecting facilities.
The company already operates in Austria, Germany, and Switzerland. With the recently raised funds it plans to expand its market even further by maintaining international partnerships and investing in digital marketing. Also, part of the funding will be devoted to developing its autonomous mobile robot capabilities and enhancing existing products.

Singapore Edtech Startup Cialfo Secures US$40 Million in Series B
Singapore tech startup Cialfo raised US$40 million in a Series B funding round, bringing its total funds raised to US$55 million. The funding round was led by Square Peg and SEEK Investments, along with Vulcan Capital, SIG Global, DLF Venture, January Capital, and Lim Teck Lee.
The company was founded in 2017 and now has offices across Singapore, India, the US, and China, with over 170 employees. The company's mission is to make the college application process easier for high school students and enable the democratization of education. Cialfo is partnered with about 1,000 universities around the world. The company's platform allows international students to find and apply to numerous educational programs with just one application form and build direct communication with university counselors and students.
The new funding will be used to further expand Cialfo's global user base to expand worldwide, as well as improve its platform by creating new features and enhancements. Cialfo CEO and co-founder Rohan Pasari stressed that these new product enhancements will be released later in 2022 and help millions of students access higher education internationally.
If you are planning to set up in Singapore, register your Singapore company with us. We offer an experienced team along with an industry-leading online portal, delivering exceptional customer experiences.
About CorporateServices.com
Headquartered in Singapore, CorporateServices.com, empowers global entrepreneurs with information and tools necessary to discover Singapore as a destination for launching or relocating their startup venture and offers a complete range of company incorporation, immigration, accounting, tax filing, and compliance services in Singapore. The company combines a cutting-edge online platform with an experienced team of industry veterans to offer high-quality and affordable services to its customers. Contact Us if you need assistance with setting up a new Singapore company or if you would like to transfer the administration of your existing company to us.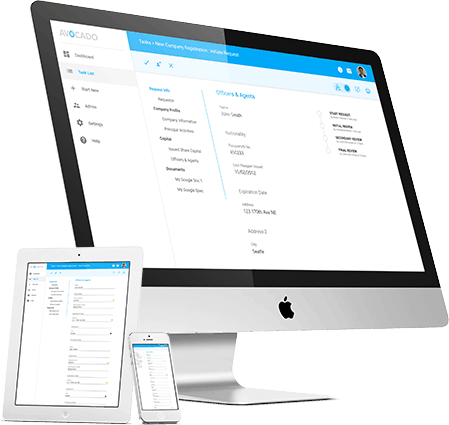 Considering Singapore?
Experienced team. Affordable cost. Online platform.
Interested?