Although Hong Kong continues — officially — to be a special administrative region of China, with a high degree of autonomy and freedom from interference from the mainland government, the actual situation in the region is very different now. Recently Beijing has taken numerous brazen steps to oppress the city's political and economic freedoms and eradicate any meaningful political opposition. In 2019, Hong Kong was rocked by anti-government protests in which about 2 million people took to the streets to oppose the bill that would allow Hong Kong residents to be extradited to China. The protests became even more massive after police cracked down on these marches, often very violently. These problems were exacerbated by a general economic downturn in the city and the US-China trade war. The latest act of mainland China was the 2020 enactment of a national security law for Hong Kong that radically expanded the powers of Chinese special services in Hong Kong and limited the personal freedoms of Hong Kong residents, essentially depriving the city of its autonomy. Since that development, many business owners have been wondering whether to leave Hong Kong or stay. About 35% of surveyed U.S.-based companies in Hong Kong said they have considered moving capital, assets, or business out of the territory.
Unfortunately, China's offensive on Hong Kong's autonomy is only intensifying. Below we will review the most recent actions by the mainland government that have made numerous businesses and individuals leery about Hong Kong.
"Improving" Hong Kong's electoral system
After imposing a new national security law on Hong Kong last year, China has followed up this year with a revamp of the electoral process.
On March 10, 2021, China's parliament approved a proposal for "improving the electoral system" of Hong Kong, further restricting the ability of people in the territory to freely elect their leaders. Deputies of the National People's Congress (NPC) in Beijing voted 2,895 in favor of the proposal, with no votes against and one abstention.
Adopting the "draft decision" was considered all but inevitable after the mainland government announced plans to revamp Hong Kong's electoral system earlier in March. Votes at the NPC are considered largely ceremonial, with the parliament not known to vote against acts submitted by the country's leaders.
The main goal of the proposed changes, which came on the closing day of the NPC's annual meeting, is to ensure that only "patriots" govern Hong Kong, a definition which Chinese officials have made clear requires not only being loyal to the country but also to the Communist Party.
The new regulations include a plan to change the number of delegates and composition of the city's legislature, increasing the number of delegates from 70 to 90, thereby reducing the overall percentage of democratically elected members.
Currently, in the 70-member legislature, voters directly elect half the members — 35 seats — and the other half are chosen by constituencies representing various professions and interest groups. Many of the constituencies lean pro-Beijing, ensuring there's a majority of members with the same position in the legislature.
The new body will have only 20 members elected by the public, 30 chosen by the constituencies and 40 by an Election Committee, which also chooses the city's leader. The Election Committee, which will be expanded from 1,200 to 1,500 members, is also dominated by supporters of the central government in Beijing.
All these moves are part of a multi-phase effort to rein in political protest and opposition in Hong Kong.
Threats to Internet freedom
Since the national security law came into effect in June 2020, various aspects of Hong Kong's civil society have come under attack — including internet freedom. ­­
In January 2021, one of Hong Kong's internet service providers confirmed that it had blocked access to a pro-democracy website that documented events that took place during the 2019 pro-democracy protests. So it is very likely that this article will not be read by anyone in Hong Kong. This marked the first time that Hong Kong internet providers complied with government demands to block websites in the city.
On February 13, 2021, internet users in Hong Kong reported on social media that the website of Taiwan's Transitional Justice Commission, an independent government authority, had also become inaccessible within Hong Kong. Hong Kong's media also confirmed that the page was only accessible through virtual private networks.
Such blocks of internet resources are another example of the effect of the security law, which bans broadly defined activities aimed at secession, subversion, terrorism, and collusion with foreign forces, on Hong Kong's internet freedom.
Quarantine measures: necessity or restriction of civil liberties?
The latest measures for controlling the COVID-19 pandemic in Hong Kong are among the strictest in the world. Anyone who has been in close contact with a positive case is required to stay in a government centre for two weeks. All persons who test positive are forcibly taken to a hospital. Anyone entering the territory must quarantine in a hotel for 21 days.
There is no exception even for children. Under Hong Kong regulations, persons who are confirmed to have contracted anyone with COVID-19 are hospitalised in isolation wards. That has created a problem for families because a parent or child who tests negative may be separated from a family member. Many parents have expressed worries that their children had no access to fridges, cots, or fresh food in hospitals. The US consulate in Hong Kong said it had concerns "particularly in regard to the possible separation of children from their parents."
There is a rationale for these strict measures, but in many cases Hong Kong authorities go too far and unnecessarily violate civil liberties. Those caught up in this mess are considering alternative countries, for the sake of their own and their children's safety.
China and the USA: deterioration in bilateral relations
In recent years, relations between the US and China have deteriorated sharply, especially under President Donald Trump, whose administration labeled China a strategic competitor in the 2017 National Security Strategy. In 2018, the U.S. Department of Justice initiated a China Initiative to combat economic espionage. Later, the US launched a trade war against China, banned US companies from selling equipment to Huawei and other companies linked to human rights abuses in Xinjiang, increased visa restrictions on students and scholars from China, and designated China as a currency manipulator. Since the US-China trade war began, political observers have been warning of an emerging cold war. By May 2020, relations reached a new ebb as both states were recruiting allies to attack the other for assigning blame for the worldwide COVID-19 pandemic. The relations grew worse when the Chinese Congress authorised the Hong Kong national security law.
The situation remains tense under the Joe Biden administration. On January 20, 2021, during Biden's inauguration, China imposed sanctions against outgoing Secretary of State Mike Pompeo and 27 other former officers under the Trump presidency. In his first foreign policy address, President Biden labeled China as the most serious competitor to the US.
These clashes have influenced Hong Kong. For example, in August 2020, Washington imposed sanctions on 11 Hong Kong and Chinese officials accused of curtailing political freedoms in Hong Kong through imposition of the national security law. The US sanctions and other factors are making Hong Kong less attractive to businesses and individuals.
Can Western firms still ignore the risks?
Hong Kong's recent events have made many unsure of the future. If you are a business owner operating in Hong Kong, you are probably wondering how the current political and economic situation will affect your business and what you should do to protect your interests.
Many entrepreneurs have been wondering whether to leave Hong Kong, or at least shift capital or assets out of the city — as pointed out earlier, about 35% of US-based companies have done so, according to one survey.
Concerns about the territory's viability as a financial center
For a long time, Hong Kong was one of the freest economies in the world. Its easy movement of capital has made the city one of the leading financial centers globally. But recent developments have prompted concerns about whether changes to Hong Kong's economy, business-friendly atmosphere, and its monetary policy are on the horizon.
Monetary Policy
Two primary concerns are the implementation of capital controls and the unpegging of the Hong Kong dollar (HKD) from the US dollar. The risk is that Hong Kong's policies will become similar to those of mainland China. China has used capital controls as a part of its monetary policy, and it can be difficult to transfer money out of China. Foreign transactions and bank withdrawals are limited after certain thresholds. In contrast, Hong Kong currently does not control or limit money going in and out of the territory.
With deteriorating ties between the US and China, many financial analysts are concerned that the HKD may be unpegged from the US dollar (USD). The HKD has been pegged to the USD for the past 37 years at a range of 7.75-7.85. If the HKD is unpegged, it may become a free-floating currency or be pegged to the yuan or another bucket of currencies favorable to China. Such developments could cause a flight from the currency and depreciate it against USD. It will also cause inflation.
Diversifying your assets
Given these developments, many business persons believe it's smart at this time to diversify their funds out of Hong Kong. Companies incorporated in Hong Kong can diversify by holding bank accounts outside the territory. Many businesses have already taken this measure, as banking in Hong Kong has become increasingly difficult. Politically exposed persons may face additional challenges and may want to exit Hong Kong entirely, given the security law consequences that may fall on foreigners as well as Chinese nationals who are on CCP's black book.
What to consider when choosing an alternative
There are several factors to consider when evaluating where to reincorporate your company and transfer your bank account. A jurisdiction's reputation, taxation, double tax treaties, ease of banking, asset protection options, privacy, accounting and reporting requirements all play a role.
For entrepreneurs who need to remain connected to Asia, Singapore may become the go-to financial center in the region. It is one of the world's most business-friendly countries. With excellent global connectivity, easy access to top-quality talent, well-developed research organizations, pro-business regulations, and robust infrastructure, the country is an ideal place to run your venture. In 2020, the World Bank's Ease of Doing Business Index ranked Singapore as the second easiest place to do business and fourth in the world for starting a company. In Singapore, you will have easy access to capital, with annual venture capital funding increasing steadily beyond US$1 billion.
For your convenience we have prepared a guide that describes the key differences between Singapore and Hong Kong for setting up and operating a company. You can find details about how to move your Hong Kong company to Singapore in our article. Eventually, if you decide to move your business to Singapore, please contact our team.
About CorporateServices.com
Headquartered in Singapore, CorporateServices.com, empowers global entrepreneurs with information and tools necessary to discover Singapore as a destination for launching or relocating their startup venture and offers a complete range of company incorporation, immigration, accounting, tax filing, and compliance services in Singapore. The company combines a cutting-edge online platform with an experienced team of industry veterans to offer high-quality and affordable services to its customers. Contact Us if you need assistance with setting up a new Singapore company or if you would like to transfer the administration of your existing company to us.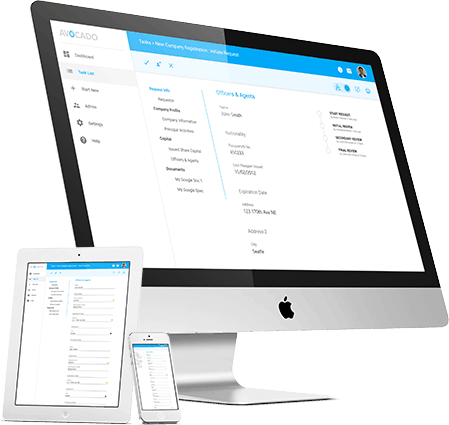 Considering Singapore?
Experienced team. Affordable cost. Online platform.
Interested?