On May 28, 2020, the National People's Congress authorised the drafting and enacting of a national security law for Hong Kong. The law came into effect on 30 June, the day before the 23rd anniversary of the city's handover to China from British rule. It will radically expand the powers of the Chinese special services in Hong Kong and limit the personal freedoms of Hong Kong residents. Despite restrictions imposed due to COVID-19, thousands of people took to the streets of Hong Kong to protest the decision, which will deprive the city of its autonomy. If Hong Kong ceases to be autonomous and comes under the domain of China's political and legal system, it will likely lose its status as a global financial center.
Note: In recent weeks, our firm has been very busy incorporating Singapore companies for Hong Kong-based businesses that are relocating their operations to Singapore. For ease of reference, we have prepared a comparison guide on operating a company in Hong Kong vs Singapore that you may find useful.
Background of China's new regulations
In 1997, Hong Kong ceased to be a British colony and became a part of China as an autonomous region — the Hong Kong Special Administrative Region. Under the terms of handover of the city to communist China, a number of British rights and freedoms were supposed to be protected for another 50 years — until 2047. This coexistence of different legal systems was often referred to as "One Country – Two Systems." Hong Kong is subject to the Chinese laws only in certain areas (defense and foreign policy), and for all other aspects, it has its own Basic Law, as well as a parliament and the executive branch. According to Article 23 of the Hong Kong Basic Law, which has been in force since 1997, the city was required to enact a law prohibiting activities against state security: treason, separatism, incitement to rebellion, calls for the violent overthrow of power, and illegal receipt of information constituting a state secret. This law should also have prohibited political activities by foreign organizations and the establishment of ties between them and local political parties.
The requirement to pass such an act has remained unfulfilled for more than 20 years, in part because the idea of ​​criminalizing activities in Hong Kong that might fall under mainland China's overly broad definition of state security has been unpopular. The first and so far only attempt to pass such a law in Hong Kong took place in 2003. It ended with a mass protest in which about half a million people took to the streets, after which the issue was never again raised in the local parliament.
With minimal likelihood of passing a law on state security through the Hong Kong parliament, China's authoritarian central government decided to take a detour by invoking a constitutional loophole: according to Article 18 of the Hong Kong Basic Law, the Beijing government can extend "national laws" to the region. This mechanism was used to impose the security law. This move does not portend well for the autonomy of Hong Kong and it could set a precedent for the imposition of other unfavorable laws by China that circumvent the will of Hong Kong's people. Hence, the strong resistance to the security law.
Details of the new security law
On May 28, 2020, the third session of the thirteenth National People's Congress (NPC) — the mainland parliament — adopted a resolution to establish a legal framework and its enforcement mechanism for safeguarding national security in Hong Kong. NPC delegated the authority to develop and adopt the specific details of the law to its Standing Committee which, unlike the mainly ceremonial NPC (which meets only once a year) meets once every two months. On June 30, 2020, the Committee unanimously passed the new national security law for Hong Kong and it entered into force in the territory the same day, just before midnight.
The new legislation criminalises:
Secession – breaking away from the country;
Subversion – undermining the power or authority of the central government;
Terrorism – using violence or intimidation against people;
Activities by foreign forces that interfere in Hong Kong.
The resolution also says that "when needed, relevant national security organs of the Central People's Government will set up agencies in Hong Kong to fulfil relevant duties to safeguard national security in accordance with the law." That means China could potentially have its own law enforcement agencies in Hong Kong, alongside the city's own.
Why are Hong Kong residents worried?
The imposition of China's law enforcement bodies on the people of Hong Kong is an ominous development for the various types of freedom that Hong Kongers have enjoyed in the past. They believe this action will hinder free speech and their right to protest. Such acts would be seen as subversion by the Chinese authorities.
Here are some of the reasons why Hong Kongers should be worried about the new law:
"Endangering national security" can mean almost anything
Under the new law "secession", "subversion", "terrorism" and "collusion with foreign forces" can incur a maximum penalty of life imprisonment. But these offences are so broadly defined they can easily become catch-all offences used in politically motivated prosecutions to silence critics with the threat of catastrophic penalties.
The new regulations have been abused from day one
Immediately after the law was passed, authorities began to use it to crack down on legitimate and peaceful expression. Citizens were arrested for possessing flags, stickers, and banners with political slogans. Police and officials have also claimed that slogans, T-shirts, songs, and pieces of white paper could "endanger national security" and lead to criminal prosecution.
Tightened controls over education and social media
In the name of national security, the new act gives Mainland authorities new and expansive powers to oversee and manage schools, social organizations, media, and internet content in Hong Kong. The media industry has expressed alarm about the law's potential impact on press freedom in Hong Kong. The New York Times, for example, has already decided to relocate part of its Hong Kong office to South Korea.
China expert Willy Lam believes that residents of Hong Kong could be punished simply for criticising Beijing, as happens routinely in mainland China. He adds that pro-democracy political organizations such as the Civic Party and the Hong Kong Democratic Party might no longer be able to maintain close contact with members of the U.S. Congress or political non-governmental organizations (NGOs). American journalists, missionaries, and NGO activists based in Hong Kong may face frequent harassment from state security agents reporting to Beijing. All of these activities can fall within the ambit of "endangering national security".
Violators could be taken to mainland China for sham trials
Under the new regulations, suspects could be removed to mainland China, handled within the mainland's criminal justice system and tried under mainland law. This is the very same prospect that sparked the series of large-scale protests in mid-2019.
China analysts believe that with the promulgation of this law, Hong Kong's judicial system will effectively come under China's control. Professor Johannes Chan, a legal scholar at the University of Hong Kong, states that "Almost all trials involving national security are conducted behind closed doors. It is never clear what exactly the allegations and the evidence are, and the term national security is so vague that it could cover almost anything."
Human rights protections can be overridden
Although the new law includes a general guarantee to respect human rights, certain provisions in the act can override these protections. The law grants immunities and vast exemptions to the national security institutions and their personnel; in fact, it states that it trumps any other Hong Kong laws in case of conflict of terms. Thus, on the face of it, the national security law can negate any existing human rights protection in the territory.
In light of these developments, many Hong Kong citizens have begun to explore ways to emigrate and leave the city, believing the law will fundamentally damage their rights of expression, freedom, and financial independence. Ten times the usual number of web searches about emigration were recorded after the decision was announced. Many local residents began selling assets and dumping shares. This threat to Hong Kong's liberties will affect its attractiveness as a business and economic powerhouse. Dennis Kwok, a pro-democracy Hong Kong legislator, said that, "This is the end of Hong Kong. Beijing, the Central People's Government, has completely breached its promise to the Hong Kong people … They are completely walking back on their obligation. The international status of Hong Kong as a city, the international city, will be gone very soon."
US Secretary of State Mike Pompeo announced that the State Department would no longer consider Hong Kong to have significant autonomy under Chinese rule, a move that indicated the Trump administration was likely to end some or all of the United States government's special trade and economic relations with the territory.
Previous China initiatives prompted Hong Kong's turmoil
Throughout 2019-2020 Hong Kong was roiled by ongoing protests. This turmoil was triggered by China's pressure on the Hong Kong government to introduce the Fugitive Offenders amendment bill, which would allow extradition of wanted criminal suspects from Hong Kong to territories with which Hong Kong does not currently have extradition agreements, including mainland China and Taiwan. This led to concerns the bill would subject Hong Kong residents and visitors to the jurisdiction and legal system of mainland China, undermining Hong Kong's autonomy and civil liberties and infringing on privacy and freedom of speech. The protesters laid out five key demands: withdrawal of the bill, an investigation into alleged police brutality and misconduct, release of all arrested protesters, a retraction of the official characterisation of the protests as "riots," and Chief Executive Carrie Lam's resignation.
The bill was withdrawn in September 2019, but demonstrations continue and now demand full democracy and an inquiry into police actions. Clashes between police and activists have become increasingly violent, with police firing live bullets and protesters attacking officers and throwing petrol bombs.
Hong Kong citizens and companies consider Singapore as an alternative
Protests in Hong Kong have not left businesses and ordinary individuals unscathed. John Hu, founder of John Hu Migration Consulting, said his agency had received a five-fold increase in inquiries from Hong Kongers seeking to relocate after Beijing's announcement. Out of a concern for security and safety, they want a visa that will allow them to be prepared to leave Hong Kong. Many consider highly democratic and liberal Singapore as a good alternative. Setting up a company in Singapore is quick and straightforward.
The same dynamics are visible in the fund flows, with Singapore emerging as a big winner of China's draconian move. Dr Ying Wu, Assistant Professor at the School of Business at Stevens Institute of Technology, said the bill had strengthened expectations that money would be leaving Hong Kong. At the same time, she said, foreign currency deposits at banks operating in Singapore have nearly doubled since last July, totaling $15 billion. Economists see this as a signal that money has started to flow out of Hong Kong and into Singapore, seen as a safe haven.
Hong Kong companies had already been reconsidering their presence in the territory as a result of last year's protests. Some 23% of companies with offices in the territory, according to the American Chamber of Commerce in Singapore survey, were thinking of leaving to escape the ongoing turmoil, with nine out of 10 looking to Singapore — beating any other destination in Southeast Asia or elsewhere.
Jeffrey Halley, senior market analyst at OANDA, said that after the introduction of the Chinese act, the city is facing a new exit of companies to Singapore. If they don't want to remain under the strict Chinese regulations but want to work under a Western-style legal system, Singapore, with its business-friendly and hassle-free regulations and attractive tax regime, can be a good alternative. You may also find more information on relocating a Hong Kong company to Singapore in our article.
If you are considering such a relocation for yourself, your family, or your business, please contact the CorporateServices.com team. Our specialists can help you evaluate if such plans make sense in your case and if so, help with the execution of the move to Singapore.
About CorporateServices.com
Headquartered in Singapore, CorporateServices.com, empowers global entrepreneurs with information and tools necessary to discover Singapore as a destination for launching or relocating their startup venture and offers a complete range of company incorporation, immigration, accounting, tax filing, and compliance services in Singapore. The company combines a cutting-edge online platform with an experienced team of industry veterans to offer high-quality and affordable services to its customers. Contact Us if you need assistance with setting up a new Singapore company or if you would like to transfer the administration of your existing company to us.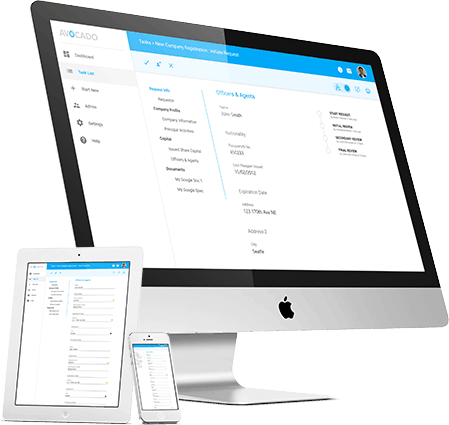 Considering Singapore?
Experienced team. Affordable cost. Online platform.
Interested?