Singapore has been rated as highly effective in its management of COVID-19, and the government continues to make tremendous efforts to cope with slowdowns in the country's economic development by introducing various safety and financial support measures. The new vaccination condition for visa applicants and other recently introduced supportive measures are part of Singapore's adjustments to dealing with the Omicron variant.
In this blog post, we will outline the main regulatory updates introduced by the Singapore government in December 2021.
New conditions for obtaining a long-term pass, work pass, or permanent residence
On December 26, 2021, the Ministry of Manpower (MOM) announced that COVID-19 vaccination will become mandatory to receive approval for new immigration permits and renewal of existing ones in Singapore. MOH says these measures will help sustain high vaccination rates in the country and promote safe recovery of the Singapore economy.
The new rules will take effect February 1, 2022, and will be applicable to work pass holders and their dependants, and on all Permanent Residence (PR), Long-Term Visit Pass (LTVP), and Student's Pass (STP) applications.
The new vaccination requirements will not be applicable to:
Children younger than 12 (including PRs, LTVPs, and STP holders);
Applicants aged 12 through 17 can continue to make a declaration to complete the full vaccination regime after their arrival in Singapore;
Individuals who can prove their medical ineligibility for vaccination (including PRs, LTVPs, and STP holders).
With these changes, employers are obliged to make a declaration that their work pass holders and dependants are fully vaccinated when applying for a pass. The declaration should be made upon their arrival in Singapore. As part of the verification process, pass holders must demonstrate to MOM that they have a vaccination certificate. As for new applications for PRs, LTVPs, and STPs, vaccination status will be verified during issuance of the pass.
After arriving in Singapore, all new pass holders and PRs must upload their vaccination records to the National Immunisation Registry. If individuals who have received their vaccination overseas fail to do this, they will have to complete the full vaccination regimen in Singapore before they can be granted a permit; otherwise their passes will be revoked.
Measures to reduce growing strain in the housing market
Even with pandemic-related restrictions, low interest rates and predictions that prices may rise further have enticed buyers to invest in the housing market, which has resulted in rising property prices. According to a government statement, private home prices have increased by 9% since Q1 of 2020. On December 15, 2021, the Singapore government introduced a set of measures to cool this price surge in the private and public residential markets.
Below are some key changes entered into force from December 16, 2021:
Increased additional stamp duty for Singapore citizens buying their second home, from 12% to 17%, and from 15% to 25% for residents buying their third and subsequent residential property.
The rate for permanent residents buying their second home rose from 15% to 25%, and from 15% to 30% for those residents buying their third and subsequent property.
Stamp duties for entities buying any residential property increased to 35%.
Stamp duties for foreigners buying any residential property were raised from 20% to 30%.
The government also announced that it will tighten credit limits for public housing apartments, meaning that a person's total monthly loan payments cannot be more than 55% of the individual's total gross income. The Singapore government also announced an increase in the supply of public and private housing to meet housing demand.
According to a joint statement from the Ministry of Finance, Ministry of National Development, and Singapore Monetary Authority, these measures will help promote sustainability and stabilize the housing market. For more details, refer to this government website.
Singapore introduces new supply chain initiative to help SMEs
The epidemic has revealed supply chain flaws caused by border restrictions and manufacturing halts. To assist the needs of small and medium-sized businesses (SMEs), an S$18 million Supply Chain 4.0 Initiative was introduced by Deputy Prime Minister of Singapore Heng Swee Keat at the Industrial Transformation Asia-Pacific 2021 event.
The new initiative intends to integrate digital AI solutions into supply chain operations. This will give SMEs access to technology that only multinational companies can typically afford to implement, which will strengthen the SME supply chains ecosystem and make them more resilient and secure.
"We must tackle the significant inefficiencies in the flow of goods and the magnitude of documentation required as the cargo flows through the supply chain."

Mr. Heng Swee Keat, Deputy Prime Minister of Singapore
These solutions will be tested at a new Supply Chain Control Tower. The testing center will be used to analyze data collected from companies to help them understand how goods flow and what problems could be solved through technological solutions.
The investments will be spread out over two years and will be led by the Agency for Science, Technology and Research in collaboration with the National University of Singapore and the Centre for Next Generation Logistics at the Singapore University of Technology and Design.
More than 50 businesses from the aerospace, fast-moving consumer goods, pharmaceuticals, precision engineering, and semiconductor industries have expressed interest in taking part in the initiative so far.
Singapore's agile and stable regulatory framework helped many local businesses deal with challenges they faced during the pandemic. This approach is one reason entrepreneurs from all over the world are choosing to set up ventures in Singapore. If you have any questions regarding the company incorporation process or any other compliance matters, do not hesitate to contact our corporate services team.
About CorporateServices.com
Headquartered in Singapore, CorporateServices.com, empowers global entrepreneurs with information and tools necessary to discover Singapore as a destination for launching or relocating their startup venture and offers a complete range of company incorporation, immigration, accounting, tax filing, and compliance services in Singapore. The company combines a cutting-edge online platform with an experienced team of industry veterans to offer high-quality and affordable services to its customers. Contact Us if you need assistance with setting up a new Singapore company or if you would like to transfer the administration of your existing company to us.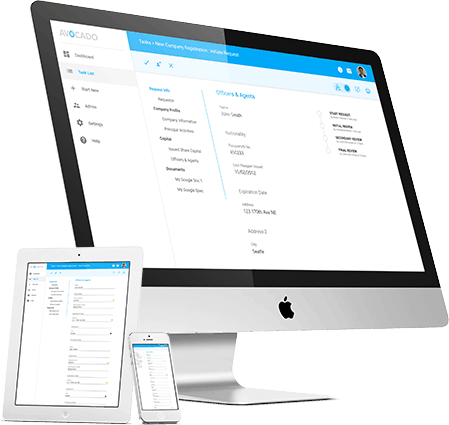 Considering Singapore?
Experienced team. Affordable cost. Online platform.
Interested?