Coronavirus in Singapore
The rapid spread of the novel coronavirus — Covid-19 — has raised alarm bells all over the world. The first case involving the previously unknown, pneumonia-like Covid-19 virus was reported in the Chinese city of Wuhan on December 31, 2019. Only a week later, Chinese authorities confirmed that it was a new (hence, a novel) virus. The disease causes symptoms similar to the ordinary cold, but it quickly affects the lungs and other organs. As of 10 March, the disease has infected 80,757 people in China, and 3,136 victims have died.
In Singapore, the first case of coronavirus infection was recorded on January 23. It was reported by the Ministry of Health of Singapore (MOH). According to the ministry, the patient was a 66-year-old resident of Wuhan who came to Singapore with his family on January 20. The man had a fever and a cough; he was hospitalized on January 22. As of now, he is discharged.
Latest situation
As of March 10, Singapore has recorded a total of 160 cases — making Singapore the country with the 16th highest number of confirmed cases in the world outside China, Italy, S. Korea, Iran, France, Spain, Germany, USA, Japan, Switzerland, UK, Netherlands, Sweden, Belgium and Norway. The first few patients were tourists from Wuhan. But on Feb 3, local transmissions were identified, and by Feb 8, those infections exceeded patients who were infected abroad. As of March 9, 93 patients have been discharged from the hospital after recovery. However, a few patients are still in critical condition. Because of its robust and fast response, Singapore has not recorded any deaths.
Policies and measures to contain the virus
Due to the fast spread of coronavirus, the MOH has just raised the Disease Outbreak Response System Condition (DORSCON) level from yellow to orange. The decision was taken after several cases of coronavirus infection in Singapore were confirmed to have no connection to previous cases or to travel to mainland China.
Following this, the ministry implemented a number of measures that were made effective immediately.
Temperature-taking at workplaces
DORSCON orange obliges employers to conduct daily health checks at offices. All companies must require their employees to pass a twice-daily body temperature check. Employers must also monitor whether workers have developed respiratory symptoms such as a cough and runny nose. Anyone with a fever or who is unwell is required to leave the office immediately and visit a doctor.
Updating business continuity plans
All companies are advised to update their business continuity plans and to prepare for widespread community transmission. The amended documents may include measures such as allowing staff to telecommute or dividing the workforce into segregated teams.
Large-scale events
Event organisers are asked to cancel or postpone non-essential large public events. For those who decide to proceed, MOH advises a number of precautions to limit risks, such as taking participants' temperature and monitoring for any respiratory symptoms. Participants should be encouraged to provide a travel declaration and to skip the event if they have recent travel history to mainland China.
Entry points controls at key locations
Additional measures are required at hospitals, schools, and social services facilities, including:
Temperature-taking at entry points, as well as closer controls;
Caring for patients with pneumonia separately from others;
Schools are to suspend inter-school and external activities and should hold classes in smaller groups;
Social services facilities are required to limit the number of visitors.
Personal hygiene and alternative greetings
Authorities are also asking individuals to play their part, noting that the most effective way to prevent transmission remains good personal hygiene and regular hand-washing. Additionally, MOH has advised against shaking hands. People who are unwell are advised to stay at home and wear a mask. Staff who come across customers who are unwell should immediately request them to leave and visit a doctor.
Policies and measures to assist businesses
The Singapore Government is studying the influence of the Wuhan virus on the country's economy and developing a strategy for how best to support business during the crisis. The hospitality, tourism, transport, retail, and food and beverage sectors are likely to be hit hardest by the outbreak. There are plans to provide special budget items in 2020 for assisting these businesses.
State authorities have announced measures to help sectors most affected by the virus outbreak. Those measures so far include the following:
Waiving license fees for hotels, travel agents and tourist guides
The tourism sector is one of the hardest hit by the virus, due to a decline in visitor arrivals, especially from China. Chinese tourists usually account for around 20% of Singapore's international visitor arrivals (about 3.6 million visitors in 2019).
The Hotels Licensing Board has announced it will waive licence fees for hotels for the rest of the year. Hotel operators typically have to pay between $300 and $500 to renew their license every year, depending on the number of rooms each hotel has.
Similarly, travel agents and tourist guides whose licences are due for renewal in 2020 will not have to pay to renew their license.
Covering partial cleaning costs for hotels that accommodated virus victims
The Singapore Tourism Board (STB) has launched a project to cover up to 50% of third-party professional cleaning fees for hotels. This package is capped at $20,000 per establishment that hosted confirmed cases, and up to $10,000 per hotel with suspected cases. This financial aid will be backdated to January 23, when the first case of Wuhan virus was detected in Singapore. Applications will be open until April 30, after that STB will assess the situation to see if further support is required.
Relief for taxi and private-hire drivers
Taxi and private-hire drivers will receive a $77 million package to support them for losses caused by the virus. This assistance is co-funded, with the Government contributing a share of $45 million and taxi and private-hire companies paying for the rest. There is also an additional $2.7 million fund set up by the Government and National Trades Union Congress.
Through this plan, about 40,000 drivers will be able to receive a $20 relief payment each day for three months from February 14. Active private-hire drivers who have completed at least 200 rides a month from October to December 2019 will also be entitled to the relief.
In addition, a total of 300,000 surgical masks will be given out to taxi and private-hire drivers, and temperature-taking stations will be set up to better protect them from the virus.
Singapore is one of the leaders in handling the coronavirus
As of now, Singapore is recognised as a country with one of the most effective approaches to combating COVID-19. When the virus first emerged, the country took some of the most aggressive measures anywhere to contain its spread, earning praise from the World Health Organization.
Despite 117 cases confirmed, there are no reported virus-related deaths, and 81 patients have already been discharged. The current slowing rate of infection in the country shows that it can be successfully neutralized.
Such a result is being achieved with a combination of actions Singapore has taken: it has a top-notch health system and has put in place unprecedented tracing and containment measures. Also, the population largely accepts the government's expansive orders.
Raising the DORSCON level from yellow to orange included imposing restrictions on anyone with recent travel history to China and parts of South Korea (Singapore was one of the first countries to do so), creating a strict hospital and home quarantine regimen for potentially infected patients, and tracing anyone those patients may have been in contact with.
One of the most innovative measures is a mobile web-based application through which patients placed under home quarantine can report their location to the authorities. Singapore has an advanced contact tracing system, using a new serological test that can establish links between infected people, to understand the chain of transmission and thereby try to break it.
In addition, the country has had extensive practice in dealing virus containment during the 2003 SARS outbreak in which 33 people died, and the 2010 swine flu, with more than 400,000 cases of infection. Thanks to this experience, precautions were already in place: ready-made government quarantine facilities and a national center for managing infectious diseases. The Ministry of Health has tested more than 1,300 people and imposed two-week quarantines on about 3,000 people who had close contact with infected patients.
Authorities in Singapore will continue to be strict about border control for travelers and are paying closer attention to those who have a history of recent travel to contaminated places.
All this shows the world that the virus is not uncontrollable. Singapore remains today a safe country, much safer than Germany, France, Japan, Spain, the USA, and Switzerland. And it is open for international business, even providing special assistance to the sectors affected.
Our recommendations to clients
We advise our clients in Singapore or who are planning to visit the country to follow the personal hygiene measures recommended by the World Health Organization:
Wash your hands frequently with soap and water or if your hands are not visibly dirty, use an alcohol-based hand rub;
Practice respiratory hygiene. When coughing or sneezing, cover mouth and nose with a flexed elbow or tissue;
Maintain social distancing — at least 1 metre (3 feet) distance between yourself and other people, particularly those who are coughing, sneezing and have a fever;
Avoid touching eyes, nose and mouth — you can transfer the virus from the surface to yourself;
If you have fever, cough or difficulty breathing, seek medical care early.
For business owners and employers, it seems reasonable to adhere to recommendations given by the Singapore government within the DORSCON programme, especially if you have offices in countries with registered cases of coronavirus:
You must conduct daily health checks at offices, require your employees to pass regular temperature-taking at least twice daily. Designate a staff member to monitor whether workers and visitors have respiratory symptoms such as a cough or runny nose. Anyone with a fever or who is unwell should leave the office immediately and visit a doctor;
Your company is encouraged to cancel or postpone crowded events;
You are advised to update your business continuity plan, allow employees to telecommute and divide the workforce into segregated teams if possible;
Business trips to China and personal communication with people recently arrived from China are best cancelled.
About CorporateServices.com
Headquartered in Singapore, CorporateServices.com, empowers global entrepreneurs with information and tools necessary to discover Singapore as a destination for launching or relocating their startup venture and offers a complete range of company incorporation, immigration, accounting, tax filing, and compliance services in Singapore. The company combines a cutting-edge online platform with an experienced team of industry veterans to offer high-quality and affordable services to its customers. Contact Us if you need assistance with setting up a new Singapore company or if you would like to transfer the administration of your existing company to us.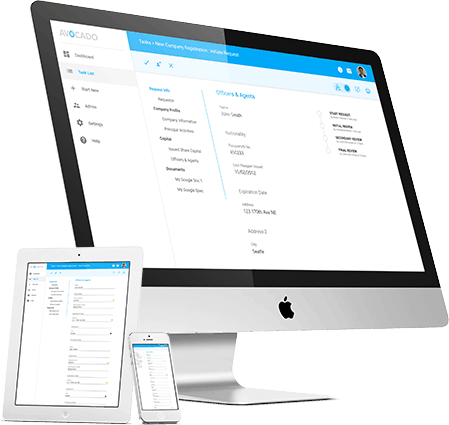 Considering Singapore?
Experienced team. Affordable cost. Online platform.
Interested?