Singapore's government is lifting some of the social restrictions instituted to limit the spread of COVID-19. It is also easing travel corridors between Singapore and other countries, as the situation is stabilizing. As of November 30, the number of COVID infections fell to 1,399 cases. Although the situation remains unpredictable due to the Omicron version.
Despite the pandemic crisis, Singapore managed to host the Singapore Fintech Festival and Singapore Week of Innovation and Technology, where government authorities introduced new supporting programs that aim to strengthen Singapore's position as a financial and tech hub. In November, the Singapore Government also released its third Rental Support Scheme with a total amount of funding over S$470 million and several new support programs in the maritime industry.
Singapore's strong and vibrant economy, carefully monitored by a smart and future-focused government, has led to Singapore being first-ranked in Asia and sixth globally in the first-ever Future Governance Index.
According to the latest statistical data, 3,696 local and foreign companies were incorporated in Singapore in October; 803 in the professional services sector, 749 in the retail trade sector, 719 in the financial and insurance sector, and 632 in the information and communications sector. If you are also considering incorporating a company in Singapore, our team will be glad to help.
Update on the travel situation in Singapore
From November 29, 2021, flights between India and Singapore will resume under the Vaccinated Travel Lane (VTL). On the same date, Malaysia will resume its travel connections with Singapore. Singapore has announced the extension of its VTLs to six more countries in December: Cambodia, Fiji, Maldives, Sri Lanka, Turkey, and Thailand.
However, Singapore has imposed some additional precautionary moves due to the lately detected new Omicron variant. From December 2, 2021, all incoming travelers entering or transiting through Singapore by air must undergo pre-departure testing.
Before you fly to Singapore, don't forget to check the up-to-date information on the Singapore Covid-19 situation and travel entry measures. You can also utilize this self-help tool to see if you are eligible to visit the country.

Singaporean cryptocurrency platform Coinhako receives in-principle approval from MAS
On November 17, 2021, cryptocurrency trading platform Coinhako received in-principle approval from the Monetary Authority of Singapore (MAS) for a digital payment token (DPT) service license under the Payment Services Act. Coinhako will continue to work on meeting the final MAS requirements to obtain a Major Payment Institution license, which will allow the company to fully provide DPT services in Singapore.
Coinhako is a Singapore-based company founded in 2014 that provides crypto trading services. The platform has experienced a tremendous growth in users in the first eight months of this year compared to the same period last year. According to the company's current data, it has over 300,000 users in Singapore.
"Singapore has always been at the forefront of fintech innovation. The regulation of DPTs under the Payment Services Act is a clear indication of our nation's readiness to nurture innovations in the digital assets and cryptocurrency space."

Yusho Liu, CEO and co-founder of Coinhako

Razer launches its new Southeast Asia headquarters in Singapore
The gaming hardware company, which hit record revenue in the half-year ended June with a US$31.3 million net profit, has opened its Southeast Asia headquarters in Singapore. As a part of its regional expansion, Razer plans to boost local workforce growth, raising the number of personnel to 1,000 by 2023.
Razer, founded in 2005 in the US, started with manufacturing gaming mice, then expanded to laptops, monitors, gaming chairs, and even FinTech. The company has around 21 offices across 13 countries, more than 1,200 patents, and 550 design applications so far.
Singapore launches two new national support programs to deepen AI capabilities
On November 8, 2021, Singapore's Deputy Prime Minister, Heng Swee Keat, announced that an additional investment of S$180 million will be provided to accelerate AI research in the financial and government sectors under the Research, Innovation and Enterprise 2025 Plan. As a part of Singapore's broader National AI Strategy, two new national programs were announced: the National AI Programme in Finance and the National AI Programme in Government. To learn more about these programs, refer to this website or contact us if you need assistance.
MAS, collaboratively with the National AI Office (NAIO), will lead the National AI Programme in Finance, which aims to enhance the ability of financial institutions to deploy AI solutions and increase productivity. The program currently includes such initiatives as NovA!, Veritas, ASAP, COSMIC, FINAiM, eGIRO, and others.
The National AI Program in Government intends to improve the delivery of public sector services by incorporating AI into diverse applications. With this program, the government intends to optimize some procedures, strengthen policymaking, and provide better services through increasing the use of AI in government institutions.
Maritime and Port Authority of Singapore (MPA) expands support programs for marine tech startups
On November 23, 2021, Mr. Chee Hong Tat, Senior Minister of State for Transport, announced the launch of new initiatives under private accelerator partner programs to scale up the growth of the marine industry. The MAP aims to support 150 marine tech startups by 2025 by attracting more investment and increasing tech solution deployment within the industry.
Mr. Chee also announced the expansion of the Port Innovation Ecosystem Reimagined (PIER71) program and the renewal of MPA's collaboration with the National University of Singapore for three more years.
"Through this renewed partnership and new initiatives, we will support MarineTech companies with access to markets, technology, funding, and talent, to enable good ideas to become scalable solutions."

Mr. Chee Hong Tat, Senior Minister of State for Transport
One of the mechanisms to spur innovation and business development in the industry is a 12-month program named Ascend, launched under PIER71, which will support the scaling of mature startups by invitation only. Furthermore, the MPA will broaden the eligibility requirements for the Maritime Innovation and Technology Fund-Startup grant, which provides up to S$100,000 in funding to PIER71 alumni. The other initiatives include the Ocean of Opportunities Challenge, PSA unboXed, Eastern Pacific Shipping, and Rainmaking Trade and Transport program. More information on various startup accelerator programs for MarineTech startups can be found in the recently introduced MarineTech Start-up Playbook.
If you have a shipping company and you are wondering whether you can apply for any incentive program, contact us to assess your chances for success and draw support from our team.
Agritech startup TurtleTree Labs snags US$30 million in a funding round
On November 1, 2021, TurtleTree Labs сlosed a US$30 million Series A funding round led by VERSO Capital, making it one of the largest investment rounds in the cell-based food sector in Asia. The total funding raised by the company is about US$40 million.
TurtleTree Labs is a Singaporean company founded in 2019 that uses cell cultivation technology to create sustainable food products. Since then TurtleTree Labs has succeeded in developing sustainable milk products from animal cells. The company also plans to produce dairy products from cultured milk.
The newly raised capital will fuel further technology and product development, team expansion, and research on new applications. The company wants to scale production and accelerate its progress towards consumer-ready cultivated dairy products in the near future.

Biotech startup RWDC raises US$95.1 million in Series B2 funding
On November 23, 2021, the company announced the closing of a fresh funding round of US$95.1 million led by Vickers Venture Partners and Temasek Holdings. Among the other participating investors are CPV/CAP Pensionskasse Coop and Optimas Global Healthcare Fund. With the latest company's funding round, total funds raised amount to about US$208 million.
Founded in 2015, RWDC Industries is a Singapore-based biotech company focused on developing alternative sustainable materials that can replace single-use plastic in various products.
The new funding will be used to expedite manufacturing of a sustainable PHA material to help the world's largest packaging companies reduce the use of fossil fuel-based plastics. RWDC will also use the funding to expand its existing production capacity and develop a first-in-the-region production facility in Singapore.
About CorporateServices.com
Headquartered in Singapore, CorporateServices.com, empowers global entrepreneurs with information and tools necessary to discover Singapore as a destination for launching or relocating their startup venture and offers a complete range of company incorporation, immigration, accounting, tax filing, and compliance services in Singapore. The company combines a cutting-edge online platform with an experienced team of industry veterans to offer high-quality and affordable services to its customers. Contact Us if you need assistance with setting up a new Singapore company or if you would like to transfer the administration of your existing company to us.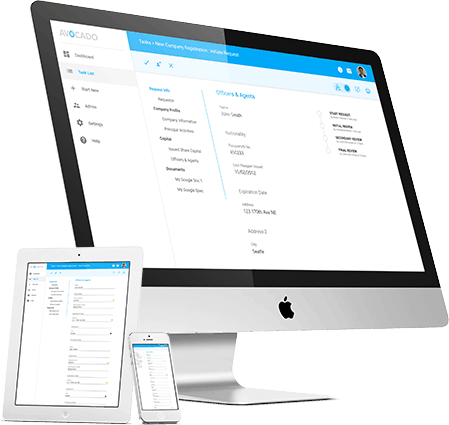 Considering Singapore?
Experienced team. Affordable cost. Online platform.
Interested?