The procedure for obtaining a patent can often be a long and arduous task. Your application must be researched, published, reviewed, and then examined — these steps that can take more than two years. To speed up this timeline, the Singapore Government has launched the Patent Fast Track Programme, which offers a way to get a patent granted quickly.
What is Singapore's Patent Fast Track Programme?
The Programme is a pilot project launched by the Intellectual Property Office of Singapore (IPOS). Its aim is to accelerate the grant of patent applications in all technology-related fields. Under the Programme, innovators can expect their qualifying patent applications to be granted in as little as six months, making it the world's fastest application-to-grant process of its kind. The pilot will run for two years, from May 4, 2020 to April 29, 2022.
The new Programme replaced two previous successful similar projects by IPOS, the FinTech Fast Track (FTFT) and Accelerated Initiatives for Artificial Intelligence (AI2), launched in 2018 and 2019. These ended on April 25, 2020, and May 3, 2020, respectively. 86 eligible applications submitted under the two schemes, 70% of those were filed by Singapore entities. Local companies that obtained accelerated patent grants include Qrypted Technology, Skyrus Network. The new Programme is expected to be quite popular and attract an even higher number of applications.
Advantages of fast-tracking a patent grant
A fast grant of a patent application can:
Provide early certainty on your ownership of intellectual property that you wish to protect, preventing someone from squatting on the same invention;
Facilitate discussions with interested investors who require a granted patent before investing in your invention (although some investors may be satisfied merely with the filing of a patent application);
Strengthen your company's position in the market;
Ease your product development by eliminating licensing uncertainty;
Act as a springboard into global markets from your base in Singapore.
However, there are some disadvantages that you must also consider. For example, the earlier your patent application is published, the sooner the technology appears in the public domain. Many applicants are happy to proceed toward a grant at a slower pace because it offers them time to plan the commercialisation and marketing of their invention without alerting competitors. This also provides an opportunity to determine whether the invention is commercially viable before committing a greater financial outlay.
Who qualifies for it?
The SG Patent Fast Track is open to all innovators from any field of technology. This expands on the experience gained through two previous programmes, which were targeted towards Fintech and Artificial Intelligence inventions. Certain criteria must be met to have an application accepted into the Programme. The request must:
Be the first patent application filed for an invention (i.e. without any priority claim);
Contain no more than 20 claims; and
Come within the cap on the number of requests per month.
Application Condierations
As the Programme permits a limited number of applications, you should think carefully about your reasons for requesting acceleration and the field to choose. To increase your chances of success, you should apply in the fields that are being actively nurtured by the Singapore government. These include emerging technologies with a short product lifecycle (e.g. FinTech, Industry 4.0 and Artificial Intelligence) or a technology with an environmental or public health purpose (e.g. food security, mitigating climate change, waste water and smart energy management, or therapeutic agents to combat COVID-19).
After the application has been reviewed by the IPOS, it will issue a Formalities Examination Report (FER) informing you whether or not the grant process will be accelerated.
Filing a patent application is a complex task that requires technological and procedural expertise. You should consider engaging the services of a registered patent agent to assist with drafting the patent specifications and submitting the application.
Cap on applications
There is a limit on the number of applications that can be processed per month under the Programme. This number varies between five and ten, depending on unutilised capacity rolled over from the previous month. For example, in May 2020 this figure was five; in June, nine; in July, ten. However, the number of successful applicants turned out to be smaller: only one in May, three in June, and five in July. The SG Patent Fast Track request is assessed on a first come, first served basis. There is also a limit of ten applications per year per applicant.
Securing Overseas Patent protection
Patent protection is territorial in nature. So, if you want to protect your invention overseas, separate applications will have to be filed in each country where the protection is desired. You will have to file applications in the IP offices of the relevant countries, either individually or through the Patent Cooperation Treaty (PCT) — an international treaty to facilitate the filing of patent applications in different countries concurrently. Singapore is a party to the PCT, so you may file the relevant applications via the IPOS and secure your inventions in the countries chosen. A registered patent agent can facilitate this task for you.
After obtaining a patent grant in Singapore, you can request acceleration via IPOS's international networks. Currently Singapore offers two programmes in this regard:
Patent Prosecution Highways ("PPH"). This collaborative programme between IP Offices allows the patent application examination process in one IP Office to be accelerated by referencing examination results from another IP Office. This work-sharing arrangement allows applicants to obtain corresponding patents faster and more efficiently. You can find countries participating in the PPH pilot.
ASEAN Patent Examination Co-operation ("ASPEC"). This is the regional patent work-sharing programme among nine participating ASEAN Member States. These include the IP Offices of Brunei Darussalam, Cambodia, Indonesia, Lao PDR, Malaysia, the Philippines, Singapore, Thailand, and Vietnam. Applicants may use the search and examination reports of participating IP Offices to accelerate the patenting process in any one of the other participating IP Offices.
Singapore as your IP Jurisdiction
Singapore's IP focus
Singapore is known worldwide for its business-friendly and robust IP protection regime. In 2013, the government announced a 10-year master plan to guide the country towards becoming a Global IP Hub in Asia. Over the past seven years, the country has implemented that plan and built a strong IP protection system. International surveys consistently rank Singapore's IP regulations as among the best in the world:
The SG Patent Fast Track further improves the attractiveness of the country as the preferred IP jurisdiction for companies. Singapore's robust IP ecosystem has seen consistent growth in patent applications, up 46% between 2012 and 2019, from 9,685 to 14,136. Innovators are increasingly building their international IP and Intangible Assets (IA) portfolios through Singapore. In 2019, there was a 234% annual increase in the use of IPOS to obtain patent grants in other jurisdictions — including major economies such as the US, Japan, China and Europe — via IPOS's Patent Prosecution Highway network.
Other benefits of using Singapore to register your company's IP assets
Singapore government offers several incentives aimed at making the country even more attractive for IP registration. These include:
Market Readiness Assistance (MRA) offered by International Enterprise Singapore. The programme aims to help Singapore-based companies defray a portion of costs (including IP costs) when expanding outside Singapore. Please find more info at the Enterprise Singapore website.
If you decide to establish a holding company in Singapore, in addition to the numerous incentives already available for holding structures, an additional scheme can provide significant tax benefits for IP holdings:
The IP Development Incentive (IDI) scheme provides for concessionary tax rates of 5% or 10% to qualifying royalty and other IP income until 2023, provided that there has been a certain level of expenditure, jobs created and other economic commitments within Singapore. You can find more information on this scheme.
Conclusions
Singapore's position as a world-leading IP hub and its business-friendly IP treatment have encouraged leading global companies such as Procter & Gamble, Continental, and Mead Johnson, to select Singapore as the location of choice for investments in research & development. The newly launched Patent Fast Track Programme is one more reason for entrepreneurs to consider Singapore as the place to register their IP rights in the country or internationally. If you are among those considering IP asset protection and need the help of legal advisors for registering your patent, trademark, or other IP rights in Singapore, please contact our specialists.
About CorporateServices.com
Headquartered in Singapore, CorporateServices.com, empowers global entrepreneurs with information and tools necessary to discover Singapore as a destination for launching or relocating their startup venture and offers a complete range of company incorporation, immigration, accounting, tax filing, and compliance services in Singapore. The company combines a cutting-edge online platform with an experienced team of industry veterans to offer high-quality and affordable services to its customers. Contact Us if you need assistance with setting up a new Singapore company or if you would like to transfer the administration of your existing company to us.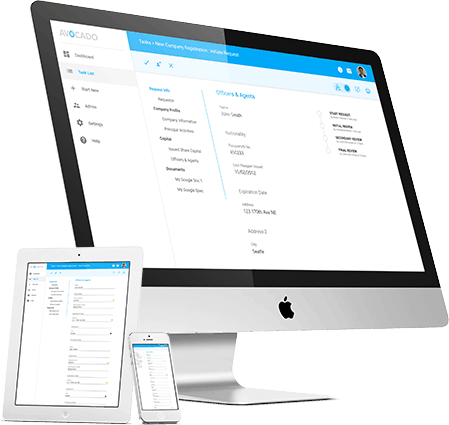 Considering Singapore?
Experienced team. Affordable cost. Online platform.
Interested?