This post is a further guide to our main article on setting up a Singapore company and provides a handy checklist of tasks and procedures for registering a Singapore company.
Stage 1: Pre-registration Tasks
The following pre-registration guide can help you in the planning, organization and information collection for your incorporation application. You should use it to coordinate your activities before you submit the application.
Decide whether you going to register the company yourself or hire a professional firm?
If you are a foreign individual or company, you must engage the services of a professional corporate services firm to register a new company in Singapore. But Singapore resident individuals have the choice of doing the application on their own or hiring a professional corporate services firm. Given the legal nature of setting up a company and its ongoing compliance, the use of a professional firm is highly recommended; such a firm can assist you with all the pre-registration, company registration process, and post-incorporation tasks and ensure that they are done correctly.
Decide on possible names for the company
Before the company name registration process, you should identify a few potential names for your proposed company. To look for possible company names, you can use our company name search tool. The following general guidelines apply:
The name should not resemble an existing business name in Singapore
The name must not be an undesirable name in the view of Singapore government; it should not include vulgar or offensive terms
Use of certain words such as "bank", "insurance", "university", and "education" may be subject to control and regulation by Government authorities. The use of such terms will require additional permissions before you can proceed to set up the Company
For 12 months after incorporation, the Singapore Company Registrar has the discretion to direct you to change your company name if anyone lodges a valid complaint that your name resembles the company or business name of the complainant and/or is likely to be mistaken for it by the general public. Since the company name is an important decision from a marketing and branding perspective, you should choose a name carefully. It is also a good idea to ensure that a relevant domain name is available for the selected company name.
Decide on business activities
When setting up a company in Singapore, you can list up to two main business activities using the Singapore Standard Industrial Classification Code. In cases where a company has more than two business activities, the two activities that generate the most revenue should be selected.
Check for licensing requirements
Certain business types such as restaurants, employment agencies, financial advisory, etc. require a license to operate legally. These licenses typically have certain conditions that have to be met (such as a higher minimum paid-up capital, professional qualifications, etc) before a license can be granted. As part of your registration planning activities, you should find out if your business will require a license and that you will be able to meet the license requirements.
Decide on share capital and shareholders
Very often, entrepreneurs first set up their companies with a nominal paid-up capital of $1 – $100 and subsequently increase the capital as necessary. Note that you will need to deposit the paid-up capital amount into your company's bank account immediately after the company registration.You will also need to decide on the initial shareholders and their corresponding stake in the company. A minimum of 1 shareholder (a local or a foreign person or corporation) is required. For a more sophisticated company structure, you may need to think about different classes of shares but for a simple and straightforward structure, you will likely issue ordinary shares only.
Decide on directors of your company
Decide on who will act as the director(s) of your company. A Singapore company can be registered with a minimum of one director. If it is your personal company, you can act as the director of your company. There is no upper limit on the number of directors. Additional directors can be added anytime later as per your company's needs.If you are a foreign person or a foreign company who is incorporating a Singapore company, note that one of the directors must be a local resident of Singapore. If you are relocating to Singapore, you may be able to act as the local resident director after the approval of your relocation visa; alternatively, the firm that you have hired to incorporate your company can offer the services of a local nominee director. Discuss your specific circumstances with your professional services firm to decide how best you can satisfy this requirement.
Decide on company secretary
Selecting a company secretary is another important task for your pre-incorporation planning. The company secretary must be a natural person (i.e. not a corporate entity), a resident of Singapore, and knowledgeable about Singapore Company Law. If you are using a professional services firm for the incorporation, the firm can provide a Secretary who will handle your company's compliance with the law. A good firm can also handle the accounting and tax filing matters of your company in a cost-effective manner until your company is big enough to hire full-time accounting staff.
Decide on registered address
Registered address is the legal address of your company and this is the place where your company's statutory books are kept. All government correspondence is sent to this address. In general, the registered address should be at the same place where your company secretary is located. If you have hired a professional firm, they will usually offer a company secretary and registered address as a packaged service.
Decide on company constitution
Previously known as Memorandum and Articles of Association, the Constitution of a Singapore Company is a legal document that sets out the details of the company's name, shareholders, shareholder rights, directors, powers of directors, registered office, meeting procedures, dividends payment procedures, etc. Most new companies can use the sample Constitution that has been made available by Singapore Company Registrar.
Stage 2: Registration Tasks
Singapore prides itself with the efficiency and transparency of its government and its business-friendly policies. Not surprisingly, it takes less than a day to incorporate a new company and the procedure can be accomplished in the following 3 easy steps.
Apply for Company Name
Before registering a new company in Singapore, the company name must be reserved. Therefore, an application to reserve your proposed company name must be filed first. If the proposed company name does not conflict with any existing names and does not fall into the category of undesirable names, it should take only 10-15 minutes to get the company name approval. Once approved, the name will be reserved for you for 60 days from the date of the name approval.
Apply for company registration
File Company Registration Application Form
The online application to register a company can be filed after approval of the company name has been obtained. The following information has to be filed as part of the application:
Details of business activities
Details of the shareholder(s) and the shares issued
Details of the company director(s)
Details of company secretary
Details of registered office
Signed Constitution of the Company
If you use a professional services firm, it can assist in ensuring that the information in your application is accurate and complete. If everything is in order, the incorporation application will be processed within a few minutes and you will receive a notice of incorporation via email. Note that the incorporation approval can take longer if the application needs to be forwarded to additional authorities for further review.

Receive Notice of Incorporation
On successful processing of the incorporation application, you will receive an email confirming the registration of the new company in Singapore. This email is called a Notice of Incorporation and serves as a digital method for certifying the incorporation. Paper certificates are no longer issued, but they can be obtained from ACRA for an additional fee. Once you receive this electronic confirmation, your company registration is complete!

Stage 3: Post-registration Tasks
After you register a company in Singapore you should complete several important tasks to finish the company registration procedure. This short post-registration guide presents all these tasks that are grouped into two categories: short term and long term. The short terms tasks should be completed within a few days after incorporation whereas the long-term tasks should be completed on an ongoing basis each year your company stays in existence.
Soon-after-registration tasks
Here is a list of common tasks that you should review and complete as appropriate for your company soon after successful registration of your Singapore Company:
Buy company seal
Open bank account
Issue share certificates
Set up statutory books
Apply for business license(s), if applicable
Appoint auditor, if applicable
Register for Goods and Services Tax, if applicable
Set up bookkeeping and payroll system
Get necessary business insurance
Ongoing tasks to keep your company in good standing
To keep your new company in good standing, you will need to satisfy certain ongoing compliance requirements. Failure to comply can lead to penalties and (in serious cases). Non-compliance can also negatively affect your company's reputation. Here is a list of common compliance requirements:
Annual Return filing with Singapore Company Registrar
Annual Tax Filing with Singapore Tax Authority
Notifying Company Registrar of any changes to the legal structure of the company in a timely manner
Director's disclosure
Complying with Employment Law
Complying with Data Privacy Law
Complying with Financial Reporting Standards
Complying with applicable rules and regulations of the business licenses
Contact us today if you need help with the registration and compliance management of your Singapore company.
Final Thoughts
Setting up a new company in Singapore is a rather straightforward and simple process. In most cases, a Singapore resident, a foreign individual or a foreign company can create a new business entity in a matter of days, if not hours. However, it is advisable to take the assistance of a corporate services firm to guide you through the incorporation process and ensure that the company is set up according to all the requirements.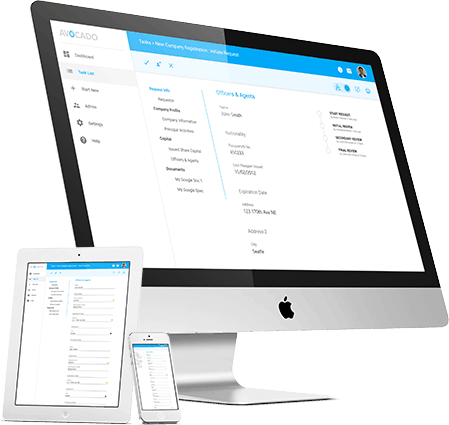 Considering Singapore?
Experienced team. Affordable cost. Online platform.
Interested?