Coworking spaces provide flexibility for a new company. You can acquire good quality working space for your team without making a long-term commitment. Coworking has now become a large segment in the real estate market. According to the Statista website, 18,700 coworking spaces were operating worldwide in 2018 and this number is expected to reach 22,400 by the end of 2019. CoworkingResources' research shows that the number of coworking spaces worldwide is projected to reach 25,968 by 2022.
So, what exactly is a coworking space? Generally, it is a shared workspace for people working independently on different projects – and in most cases, for different companies. Some of them are freelancers, some are working remotely for their employers, while others might be working for a start-up. A range of amenities are provided by the coworking space provider, including high-speed internet, desks, chairs, lamps, filing cabinets, copiers, kitchen area, lounges, reception area, and even sophisticated equipment, such as 3D printers.
The main attraction of the coworking space is its flexibility; you can join and leave with very short notice periods. Another benefit of such a work environment is that it provides a community of entrepreneurs, freelancers, and small businesses an opportunity to network and form business relationships organically.
Is coworking for your?
Coworking spaces were a response to the booming demand for simpler alternatives to the "long-term commercial leased" office space. Entrepreneurs, tech startups, distance workers and freelancers often prefer quick working solutions that do not require them to make multi-year commitments. If this is your situation, coworking may be a good option for you. But before you go down this path, you should be aware of its advantages and drawbacks.
Coworking spaces create an upbeat, positive, working environment. Working side-by-side with other startups, entrepreneurs, and freelancers can boost your productivity and creativity. Besides networking opportunities, you can also take advantage of events, consultations, and advising sessions that are organized by the coworking managers.
Flexibility is another advantage; particularly, if you anticipate a fluctuating number of employees. If you plan to start small but grow soon, coworking spaces will provide a platform to scale up.
Low startup cost is another advantage. The low onboarding cost facilitates the launch of a start-up because the firm can save the capital that would otherwise be required to rent an entire office.
But there are challenges too. Among the most salient is the lack of privacy as you will be working with many others who you may or may not know well. Coworking spaces can become crowded during certain days or hours; it may influence your productivity. Likewise, networking events and activities may be extremely distracting for the work that requires a high level of concentration. Finally, coworking spaces are not cost effective in the long-term. If you plan to be at a location for several years, you will do better by acquiring the office space directly.
Overview of the coworking industry in Singapore
Singapore, Luxembourg, and Ireland are the top three countries with the highest density of per capita coworking spaces. Singapore is one of the most active markets in the Asia-Pacific region for coworking spaces. This is due to its thriving startup culture and the numerous government incentives that encourage innovation and enterprise formation (if you are thinking of launching your startup, read our Singapore company registration guide). More than 120 flexible workspace centers are operating in the country and coworking space providers compete to differentiate themselves from their competitors. In fact, the coworking trend has impacted the office design of large firms too. For example, the new office of Prudential Assurance Singapore, PRU WorkPlace, is designed as an open amphitheater and contains collaborative work zone for employees.
Though the coworking industry is flourishing, there are growing concerns around the sustainability of coworking demand. In particular, WeWork – one of the principal players in this segment – is confronting serious problems due to its aggressive growth and management turmoil. However, even while WeWork is shutting down locations across the world, it is expanding in Singapore. So, if you plan to use a WeWork coworking place in Singapore, please evaluate it cautiously and do not sign a long-term agreements with WeWork.
Coworking Spaces in Singapore
To choose a coworking place, you should consider several factors, such as opening hours, subscription type, location, and price. Note that coworking spaces generally charge a per month fee. You will pay approximately S$250 to S$500 monthly for a hot desk in Singapore. The price for a dedicated desk normally starts from S$600 per month.
Below are some of the coworking spaces in Singapore that our clients have used with success. Please note that the information is accurate as of October 2019 but may change subsequently. Also note that we do no promote any specific coworking space; you should check them out and choose the one that best suits your needs.
Conclusion
To sum up, the demand for coworking spaces is driven by flexibility, affordability, and a desire to network. Singapore offers a flourishing market for coworking spaces. Of course, coworking has its pros and cons, so the best way to understand whether it is a suitable option for you is to check out a place before you sign up. Many spaces offer free trials to test out how well they would work for you. Finally, you should keep in mind that you may not need an office, but just an address. For example, you may be required to have a Singapore registered address to comply with the ACRA requirements. We offer company registered address service at very affordable cost that may be all you need.
About CorporateServices.com
Headquartered in Singapore, CorporateServices.com, empowers global entrepreneurs with information and tools necessary to discover Singapore as a destination for launching or relocating their startup venture and offers a complete range of company incorporation, immigration, accounting, tax filing, and compliance services in Singapore. The company combines a cutting-edge online platform with an experienced team of industry veterans to offer high-quality and affordable services to its customers. Contact Us if you need assistance with setting up a new Singapore company or if you would like to transfer the administration of your existing company to us.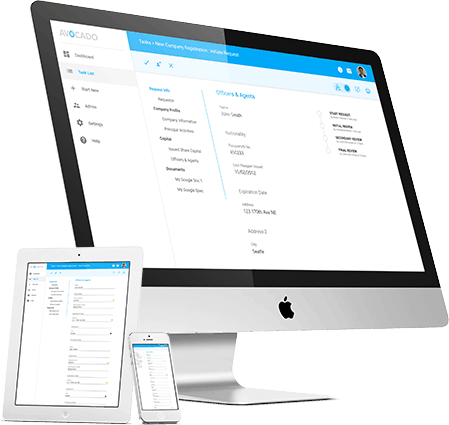 Considering Singapore?
Experienced team. Affordable cost. Online platform.
Interested?