Creating a seller account with Amazon Singapore
---
This article is a guide to starting an eCommerce business on Amazon Singapore. It describes a step-by-step process for creating a seller account with
Amazon.sg
, as well as registration requirements, product listing rules, and some helpful tips on how to succeed in selling on Amazon.
T
here is one sector of the global economy that has benefited significantly from the COVID crisis — online shopping and eCommerce. As the pandemic caused lockdowns across countries, consumers were compelled to shift from in-store shopping to shopping online. Singapore imposed one of the most stringent lockdowns of any country, as a result Singapore's eCommerce segment has also grown dramatically. According to the
Datareportal 2021 report
, the total value of consumer goods sold in the eCommerce market grew in 2020 by 32.4% compared to the previous year. Singapore's online consumers were already among the most engaged in the region; they are tech-savvy and readily adopt new technology. In fact, 79.7% of internet users in Singapore purchase products or services online.
Since 2004, when eBay was launched in Singapore, eCommerce has come a long way. According to the latest Statista report, Singapore's eCommerce market now boasts the highest average revenue per user among Southeast Asian countries. The key reasons for Singapore's success are its high GDP per capita, well-developed technology infrastructure, and the government's desire to make Singapore a "smart" i.e. tech-savvy nation. The country positions itself as Southeast Asia's best-equipped eCommerce market. These factors indicate that eCommerce has large growth potential in Singapore.
In Singapore, Amazon has emerged as one of the most popular online platforms, where individuals, small, and medium-sized companies can easily start their eCommerce business. Amazon.sg stands out among Singapore's top-ranking eCommerce platforms (such as Lazada, Qoo10's, Carousell, Shopee, Ezbuy, eBay, Harveynorman) as the most attractive option for foreigners, due to its international footprint and rich set of features for sellers. For sellers, Amazon.sg can serve as a gateway to the rest of Southeast Asia's burgeoning eCommerce markets.
When starting or expanding your eCommerce business in Singapore, you should first examine product demand in the region. According to the Datareportal 2021 report, the most popular eCommerce product categories in Singapore are the following:
Travel, mobility, and accommodation
Food and personal care
Electronics and physical media
Fashion and beauty
Furniture and appliances
The pandemic has changed established product trends. According to the Datareportal 2021 report, the most popular product category (i.e. travel, mobility, and accomodation) shrank by 47.4%, while other categories have grown by 30%. Therefore, it is critical to keep track of current trends in specific product categories.
Types of Accounts with Amazon Singapore
Companies and individuals who wish to sell products on Amazon Singapore must register an account. The account can be of the following types:
Vendors. These are companies who are invited into a retail relationship with Amazon. Amazon purchases their products and then sells them to customers; in other words, the company acts as a vendor to Amazon. This relationship is called a "first-party" relationship since in this case Amazon is the seller of record. Thus, a first party seller (1P) is a brand manufacturer who sells inventory directly to Amazon, who then sells it to the customer. For shoppers, these items appear on the platform with the label "Ships from and sold by Amazon.com".
Sellers. While an invitation from Amazon is required to be a vendor, anyone can become a seller. Sellers are independent companies or individuals who sell their products in Amazon's store on their own. This relationship is called a "third-party" relationship since Amazon is not the seller of record but a third-party i.e. the seller is. Sellers fall into two groups: resellers and brand owners.

Resellers find popular products that already exist and offer them in Amazon's store.
Brand owners manufacture their own products — or source goods to sell under a private label — to offer shoppers a unique selection.
This article focuses on the Seller (3P) model. It does not address the Vendor (1P) model.
What can you sell on Amazon Singapore?
Before you start selling on Amazon Singapore, it is crucial to understand the Restricted Products Policy and make sure your chosen products are not on the seller's prohibited list.
As a seller, you should ensure the following conditions are met:  
You are permitted to sell and deliver products that meet the applicable export, import, and customs laws.
Your products are compliant with laws involving local consumer protection, product compliance, content, and other restrictions.
Sale and delivery of your product does not violate the intellectual property rights of third parties.
Product restrictions in Singapore are similar to those in other markets, but generally they depend on the product, the category of the product, and the brand. Some categories are open to all sellers, while others require a Professional seller account, or special approval, and some can not be listed at all due to legal, ethical, and other restrictions.
Amazon.sg divides products into more than 20 categories that are open to all sellers. You can check whether your products are on the list of eligible product categories. Below is a list of the product categories that currently require approval to be sold on Amazon Singapore:
Even if selling in a particular category does not require official approval, selling certain products may require an additional approval as these products must meet specified certification standards. You can also check selling restrictions on controlled goods.
To sell a product on Amazon, you must first create a product listing (i.e. product page for each of the items you sell on Amazon). Product listings are matched to specific product categories. You can either use an existing category, or create new ones.
On Amazon.sg, sellers can offer products to online shoppers across Singapore. However, if you wish to sell in other markets, Amazon offers a linking accounts feature, which allows you as a seller to easily toggle across accounts in various regions. You must register a seller account for the country or region where you want to sell. All your Amazon accounts registered in various countries can then be linked. With linked accounts, you will be able to monitor consolidated marketplace trends, manage sales across Amazon's international stores, and scale your eCommerce business.
Seller account registration requirements
Each Amazon marketplace has its own seller account registration requirements, which vary from region to region. Below are listed the general Amazon.sg seller's registration requirements.
Eligibility
To be eligible to sell on Amazon Singapore as a business or a sole trader, you need to have proof of a business establishment in one of the listed countries. Singapore is a very good jurisdiction for registering your company if you wish to sell on Amazon. If you intend to sell on Amazon as a private person, you need to be a resident of one of the eligible countries. But keep in mind that selling as a private person can expose you to unlimited personal liability, putting all of your family's assets at risk. Therefore, it is always better to register a company and sell through the company's legal structure.
Payment Settlement
You should provide Amazon with an internationally chargeable credit card acceptable to Amazon, and a bank account opened in one of the countries supported by the Amazon Currency Converter. Amazon will use the credit card to charge the fees that you owe to Amazon and it will deposit your sales revenue to your bank account.
Once you have a positive balance on your seller account, Amazon will send the proceeds from your sales to the provided bank account using electronic transfers. Note that Amazon cannot make payments to a credit card or online payment system, such as PayPal.
You are required to provide your credit card details so that Amazon can charge its monthly subscription fees and other charges, according to your selling plan.
Taxes
While registering your Amazon seller account, you will be required to provide Amazon with either your personal or business tax ID (i.e., Singapore GST registration number or other VAT registration numbers in countries outside Singapore, where applicable).
NOTE: Singapore charges a value-added tax — called GST — from Singapore residents.  If you are a resident of Singapore, Amazon fees charged to your selling account are subject to Singapore GST unless you are GST-registered and have provided Amazon with a Singapore GST as evidence that you are GST-registered in Singapore. If you do not provide your GST registration information, Amazon will charge you GST at a standard rate of 7% on its fees if you are a resident of Singapore. You can find more information on this topic.
Identity verification
As part of the account registration procedure, you will be asked to provide Amazon with the seller's or company representative's identity verification document: passport or national ID card. This document must be provided in one of the following languages: Chinese, English, French, German, Italian, Japanese, Portuguese, or Spanish. If your documents are not in one of these languages, you should provide a notarised translation of the documents into one of the supported languages.
Additional documents 
Amazon may also ask you to provide a bank account statement or credit card statement. The company's name (or the name of the point of contact mentioned in the statement) should match the business name (or the point of contact's name) provided during the registration. These documents must also be issued in one of the languages mentioned above (or properly translated).
Product listing
Before selling on Amazon.sg, you should also ensure that you are able to comply with local rules and restrictions for each product you would like to offer on Amazon Singapore. Your goods must be listed in the local currency. Also make sure that the sales price includes all taxes.
Customer service
According to Amazon customer policies, you should provide general customer service, including handling customer's invoice requests, in the language of the marketplace where you list your products. The business language used in Singapore is English.
When selling on Amazon.sg as an international seller (if you are based or operate your business from outside Singapore), you should ensure that you understand and are able to comply with local i.e. Singapore statutory rules and requirements.
Following are some other requirements that you must abide by:
Customs. According to Amazon's policies, you cannot import products under Amazon's name or identify Amazon as the declarant, importer of record, or consignee. You or your freight forwarder will have to be listed as importer or consignee and nominate a customs broker. Also note that all your goods sent to fulfilment centres should be sent under Delivery Duty Paid Destination freight terms with all relevant duties and customs fees.
Export controls. As a seller you are responsible for all import and export obligations, and for the payment of all applicable import duties, GST, and other taxes required to sell your products on Amazon.sg. You should ensure that you are permitted to sell and deliver particular products under the applicable export and import laws for each jurisdiction where your customers may reside. Please refer to our guide for more information on Singapore rules and regulations for importing and exporting goods.
Reporting obligations. Each Amazon registered seller should comply with local tax rules and reporting requirements. Note that you are solely responsible for (i) determination of your tax residency status, and taxes due, (ii) accounting (iii) filing your tax return to the appropriate tax authority.
Seller account registration procedure
Before setting up an Amazon.sg seller account you need to choose what selling plan is most suitable for you. Amazon offers two options: individual and professional. Creating an account under the individual plan is an appropriate option for sellers who plan to sell a few goods every month, or who just want to do a one-time sale. Creating this type of account (i.e. an individual account) is completely free. But if you want to sell more than 30 units each month on a regular basis, then signing up as a "professional" is the most efficient option for you. Amazon charges monthly fees for professional accounts.
The next step is to create a seller account with Amazon Singapore via the Seller Central page. The Seller Central is basically a portal to your Amazon business where you can manage your selling account, add product information, make inventory updates, manage your payments, and list your products.
Below is a step-by-step guide to registering a seller account with Amazon Singapore. The whole process should not take more than 20 minutes.
Step 1
On the Seller Central page, you'll be asked to enter your email address and a password for your seller account.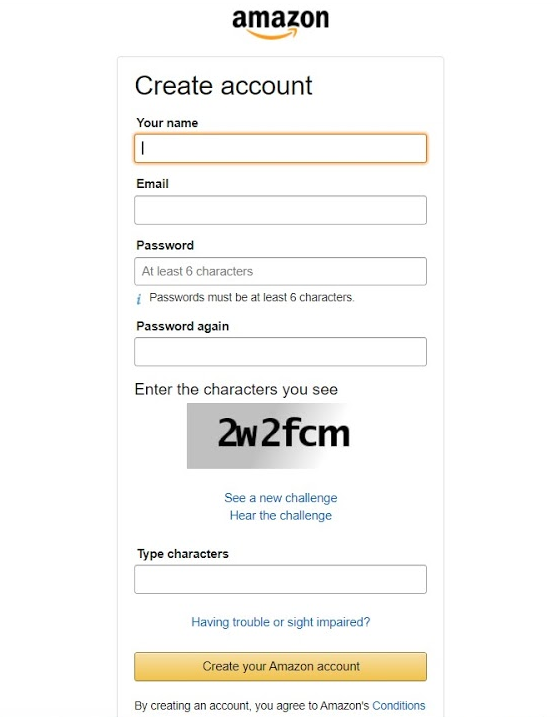 Step 2
After verifying your email address, you will be redirected to the "Seller agreement" step, where you must input your legal name (i.e., your full name OR company's registered name, depending on your business model).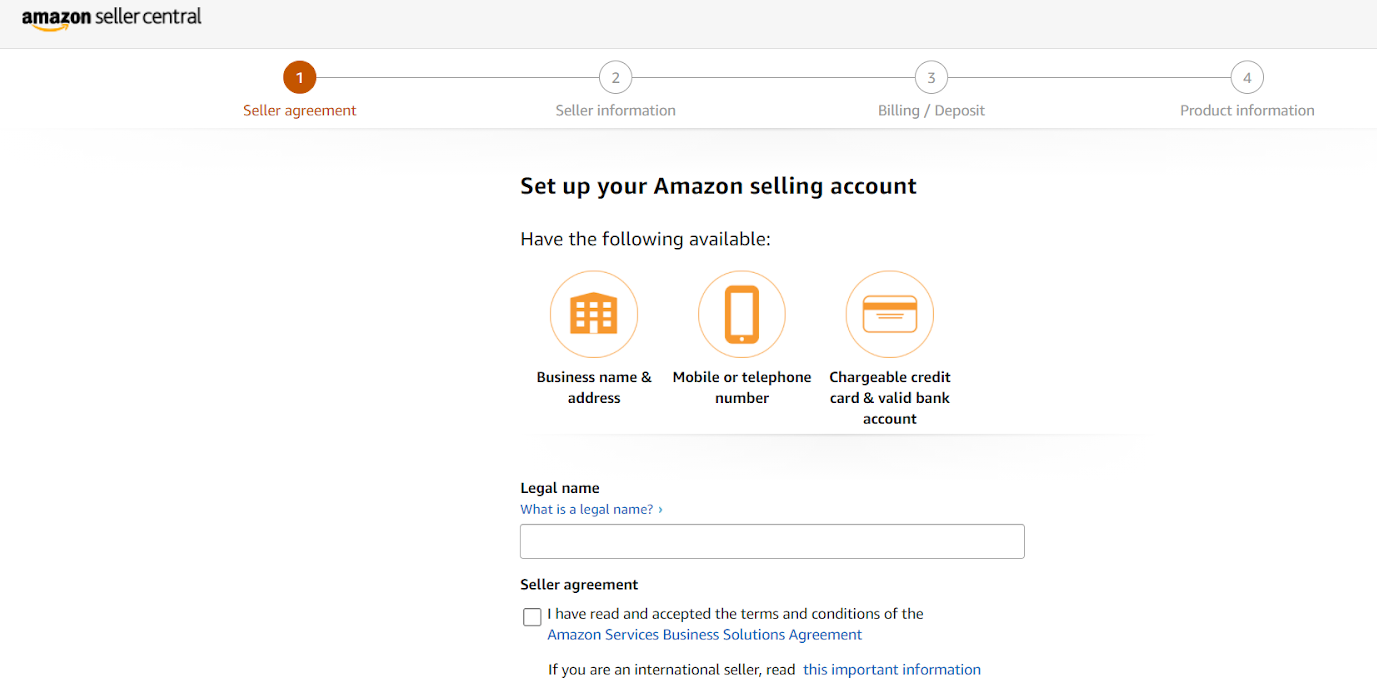 Step 3
Next, you will be asked to provide a few details about your business (e.g. business address, phone number of the contact person, website of your company, display name). If you do not have a business just yet, you can enter your residential address. You can change the address later. Note that the "display name" is the seller's business name that customers will see on Amazon.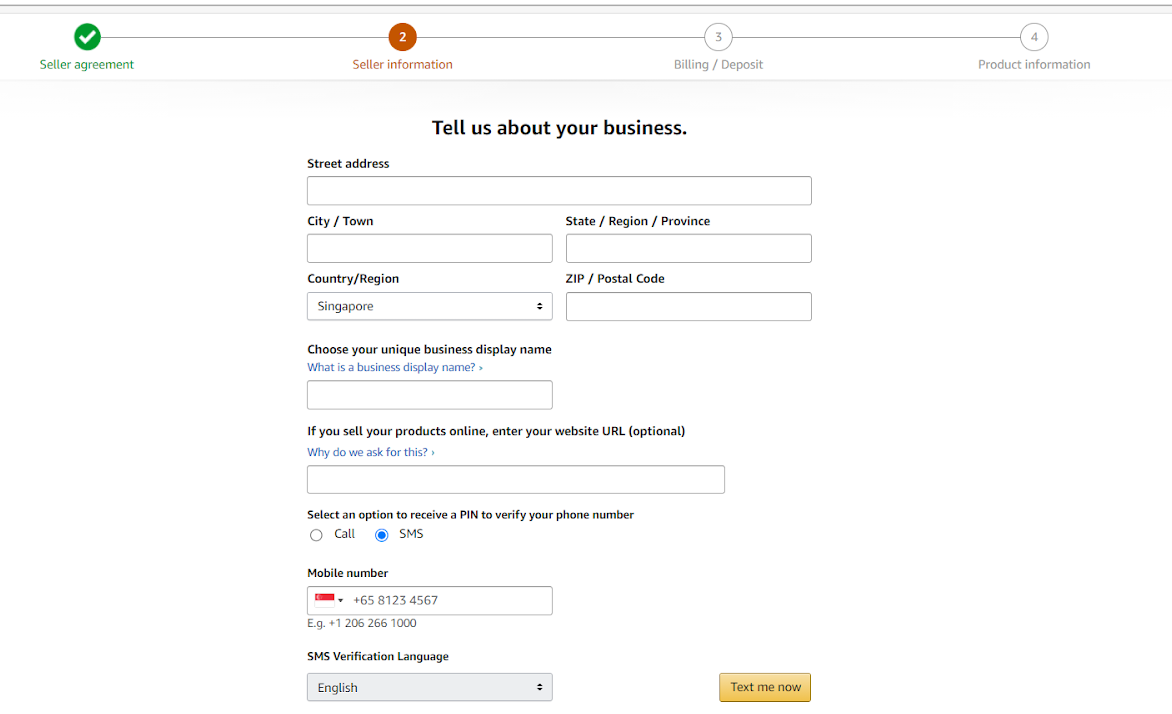 Step 4
Once business information is submitted, you should enter your credit card details in order to set up a billing method for your Amazon account. It should be an internationally chargeable credit card accepted by Amazon.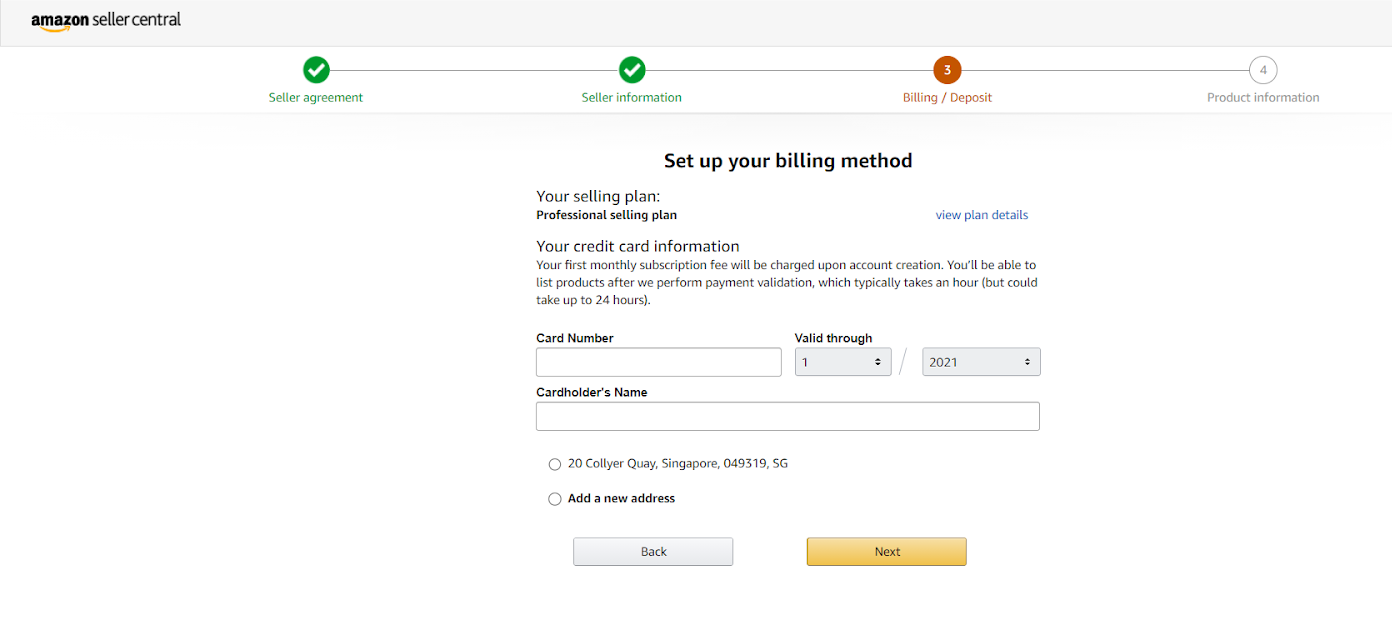 Step 5
After your billing details have been validated, you'll be asked a few questions about the products you plan to sell on Amazon.sg. These include the following: whether you have Universal Product Codes (UPCs) for your products; if you are the manufacturer, brand owner, or representative of a brand; the amount of various products you plan on listing.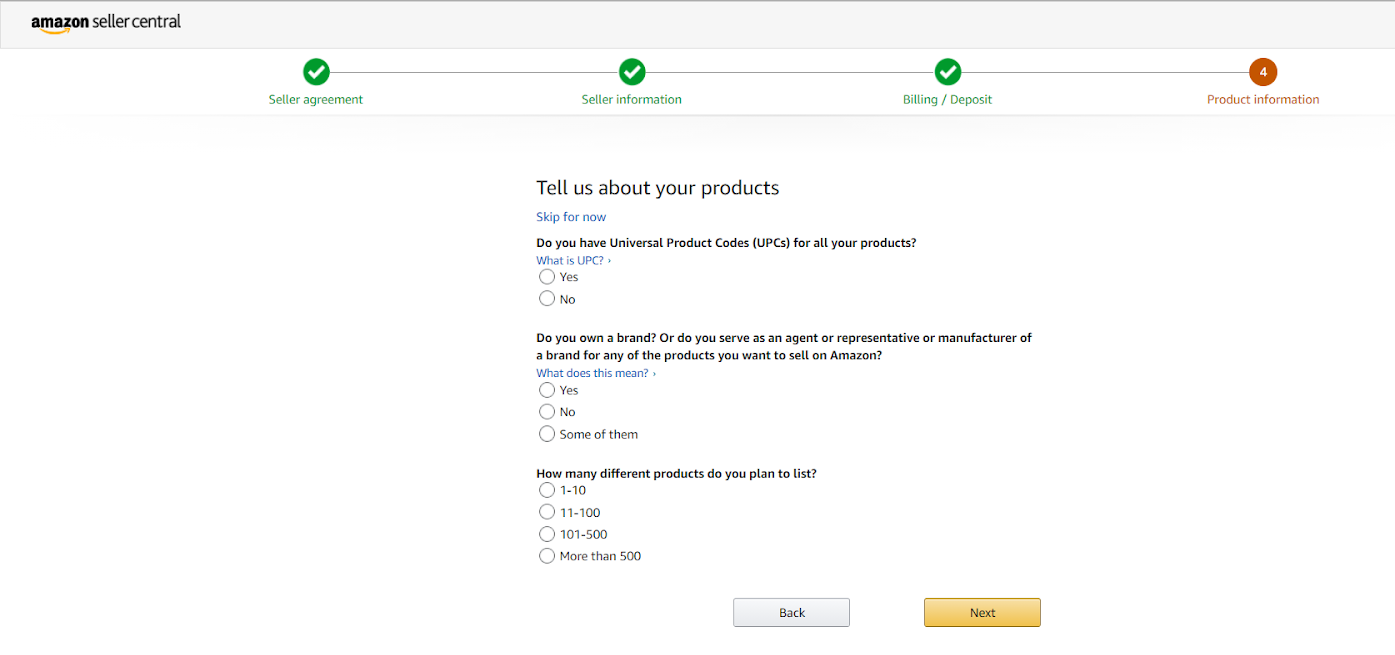 Step 6
Next, you'll need to choose product categories from the proposed list, or suggest your own if your product category is not included in the list.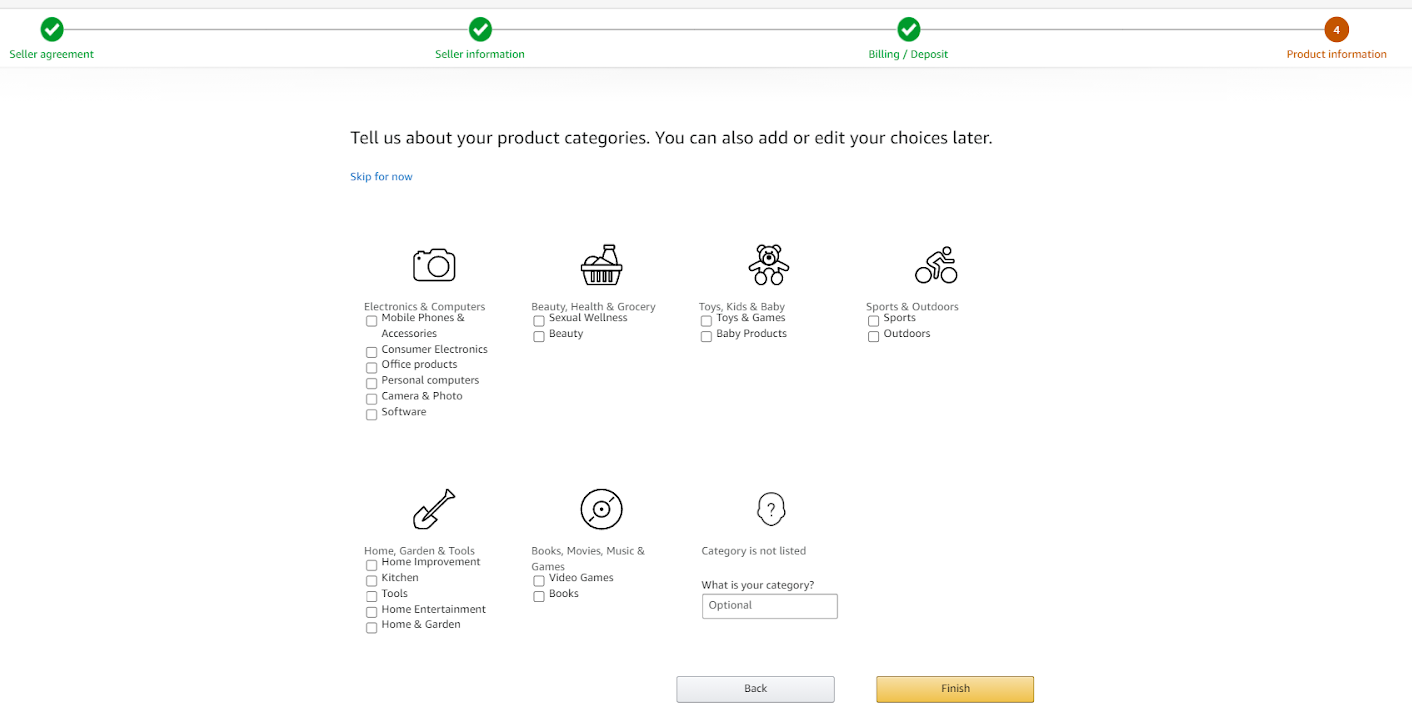 Step 7
The final step before activating your Amazon seller account is to go through the seller Identity Verification process. Since this verification is performed for an individual, the supporting documents must be connected to information about the individual registering for a seller account (if you intend to sell as a private person), OR the individual registering for a seller account on behalf of a company. After entering the required information, you must submit an identity verification document (scan copy of seller's passport, or national ID card) for the person. You may also be asked to submit additional documents such as a bank account statement or a credit card statement.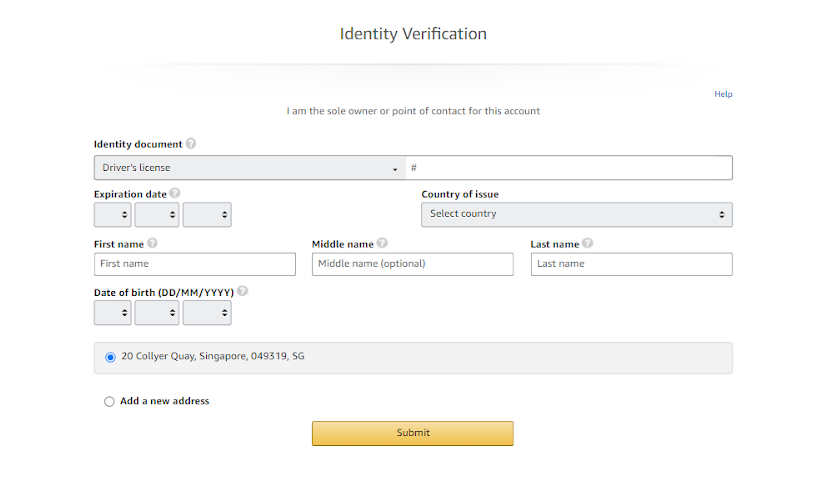 That's it! Once you upload all required documents and submit your identity verification form, your account will be under review. Amazon will review and approve your seller account within the next 2 business days. If there is an issue with any of the provided information, Amazon will reach out to you for additional clarification.

Once your account is approved, you'll be able to log in to your Seller Central account and start your business as a seller on Amazon Singapore.
Checklist for successful selling on Amazon Singapore
Even though Amazon makes selling simple and straightforward, you have to think strategically in order to establish yourself as a successful Amazon seller. Here are some guidelines to create a profitable and long-term successful eCommerce business with Amazon Singapore.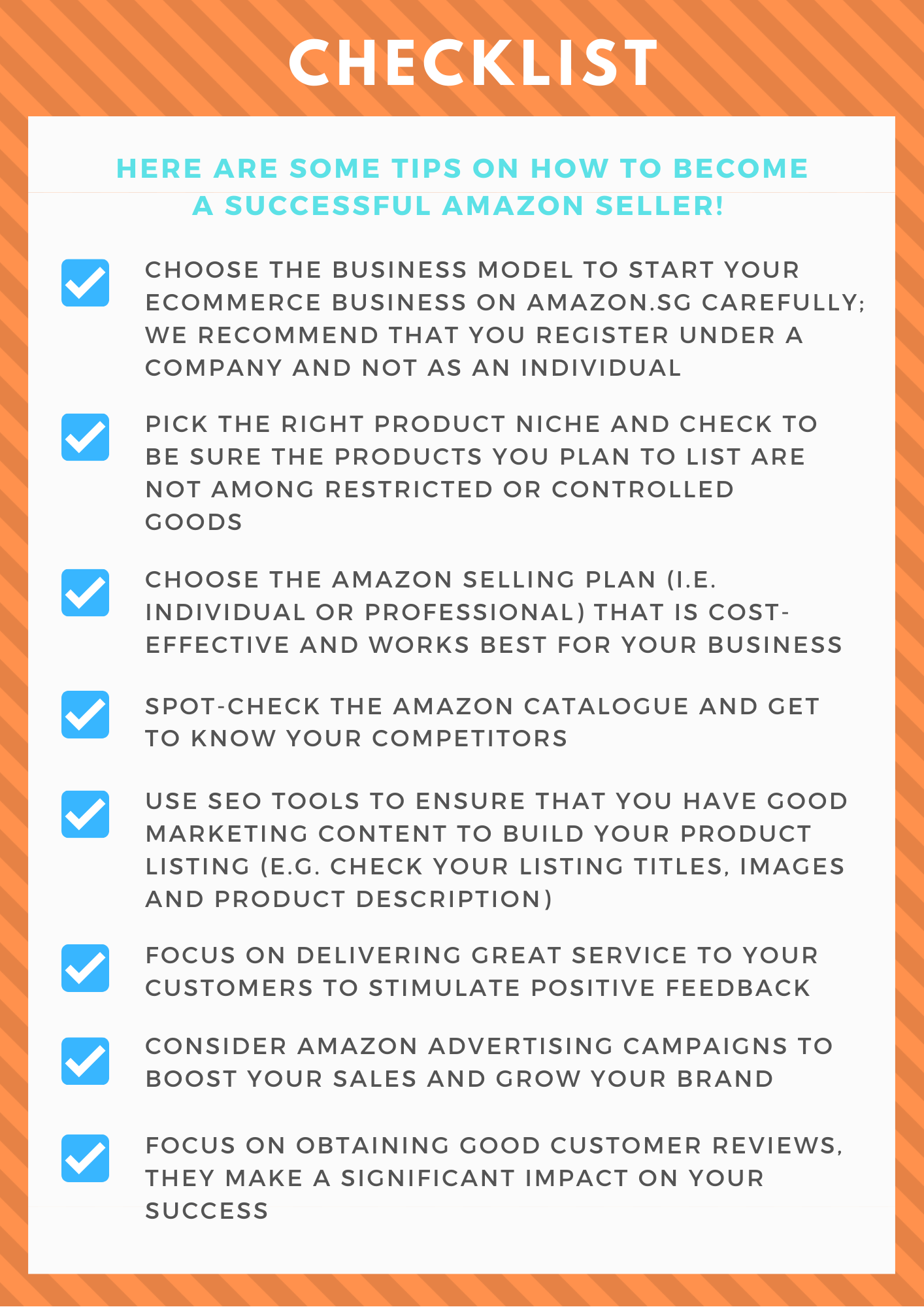 Incorporating a Singapore company for your Amazon business
If you want to launch an eCommerce business in Singapore, you should sell through a Singapore-based company. According to Amazon policies, third-party sellers must have an organized form of doing business and be GST-registered. An Amazon store can take any legal form, from sole proprietorship to limited-liability company. A private limited Singapore company is a suitable structure for several reasons.
If you plan to sell only a few goods every month, or want to execute a one-time sale, operating your Amazon business as a sole proprietor or individual may be an option for you. But there is a catch. As a sole proprietor or individual, you will have unlimited liability, which means you will be responsible for all business assets and debts. This puts you at risk, since any legal action taken against your business will make you personally liable. If a customer suffers any injury or damage from your product, you can be sued personally. If you incur debts that exceed your business assets, you could lose your personal assets to pay the debt. Therefore, establishing a limited liability company will insulate you and your personal assets, as your Singapore company will be liable in case of any legal actions and the liability ends with the company, it does not transmit to its owners or shareholders.
Whether you are planning to relocate to Singapore or plan to operate your business from abroad, we can register a Singapore company for your online store. If you plan to relocate to Singapore to run your business, we can assist you with the immigration procedures as well. The company incorporation in Singapore is an easy and straightforward process that can be completed within one day. Please contact our team for more information about the requirements for Singapore company incorporation and the overall registration process.
The global pandemic has altered the business and operating models of many businesses. Some of these changes will endure due to changes in customer buying habits. As a result of this transition, many companies have struggled to stay afloat, and many have ceased operations. But on Amazon's eCommerce platform, many small businesses have continued to grow and flourish during the crisis. You too can join this platform.
Amazon.sg has made it easy for Singapore and foreign entrepreneurs to sell their products on Amazon, reach more customers, and expand their eCommerce businesses. Amazon offers a great opportunity to sell products with easy product listing tools, a simple payment processing system, credit card fraud protection, promotional features, and reports that help to improve your sales.
Setting up an Amazon.sg seller account is fairly easy and enables you to build your business just from your laptop. Following the instructions above, you can start advertising your products on Amazon.sg in a couple of days.
Hopefully, this article will help you on the road to establishing a successful and profitable eCommerce business on Amazon.sg!
How can we help with your plans in Singapore?
Make your selection...
Click to see your choices
---
Not sure why you should work with us?
Frequently Asked Questions
Your Customer Service Team
Work with a team that reflects Singapore's tradition of excellence in diversity. We speak many languages, come from different backgrounds, but we share one goal — your success in Singapore!