This article describes the steps you should take if you currently have a Singapore company but wish to transfer its administration to a new corporate service provider.
---
Often entrepreneurs find themselves in a situation where they are not satisfied with the services they are receiving from their corporate services provider. If this is your experience, you can easily switch to a new service provider as described in this article.
Transferring the Compliance Administration
If you already have a Singapore-registered company but are not happy with the manner in which it is currently being administered, you can easily transfer its administration to a new firm. Singapore law does not impose any restrictions on such transfers. The transfer procedure is very simple and this section provides an overview of it.
Reasons for considering a Transfer
There can be several reasons that may require you to consider such a transfer:
If you are a Singapore resident, you may have incorporated the company on your own with the intention of administering it yourself. But subsequently you may realize that you are not able to diligently perform the compliance tasks required for the company and would rather seek the help of a professional firm that is experienced in this field.
You may have incorporated your Singapore company through a corporate services firm and then used the same firm for the compliance administration of your company. But you are dissatisfied with the quality of service provided by the firm and find it frustrating to deal with it. Therefore, you wish to transfer the compliance administration to a new firm.
So far your Singapore company has been run with a rather simple structure but you are now consider some changes to it (such as adding new shareholders, creating a new share class, changing the officers of the company, etc.) You feel that the compliance tasks will become more complicated after these changes and you wish to transfer the administration to a professional firm that has good experience in this field.
You are a foreigner who owns a Singapore company. A Singapore resident was one of the directors of your Singapore company and therefore you were able to satisfy the local director requirement. But the Singapore resident will not be a director of your company any more and therefore you need to find a new Singapore resident who can act as a local director for your company. You can accomplish this by transferring the compliance administration of your company to a firm that provides Nominee Director service.
You may have other unique reasons that may require you to consider such a transfer.
Steps for Transferring Company Administration
The transfer procedure is quite straightforward and typically follows these steps:
You contact the new Corporate Service Provider (CSP) to whom you plan to transfer your company administration. You clarify the services you need, confirm the fees you will have to pay, etc. with the CSP. Once you are in agreement, you give the "go ahead" to your new CSP.
The CSP will then obtain your company's profile information from ACRA and perform a "compliance check" to ensure that your company is not currently in violation of any rules. If everything is in order, you proceed to the next step. But if any discrepancies are discovered, the CSP will alert you to those and recommend an action plan to remedy them. Depending on the nature of the discrepancy discovered, there may be additional costs involved in the remediation.  You and the CSP will have to agree to a remediation plan before you move to the next step.
The new CSP will prepare all necessary document for the following:

Documents to terminate your relationship with your old CSP;
Documents to inform ACRA about the transfer of compliance administration from the old CSP to the new CSP;
Documents to inform ACRA about any other relevant changes (such as the appointment of a new Secretary, new Nominee Director, or a new registered address, etc.)

You will review and sign the documents as appropriate.
The new CSP fill file the signed documents with ACRA to effect the change.
Considering a Transfer?
Please see our Special Offer.
Please refer to the figure below for a high-level overview of the process we follow when we transfer a company to take over its compliance administration.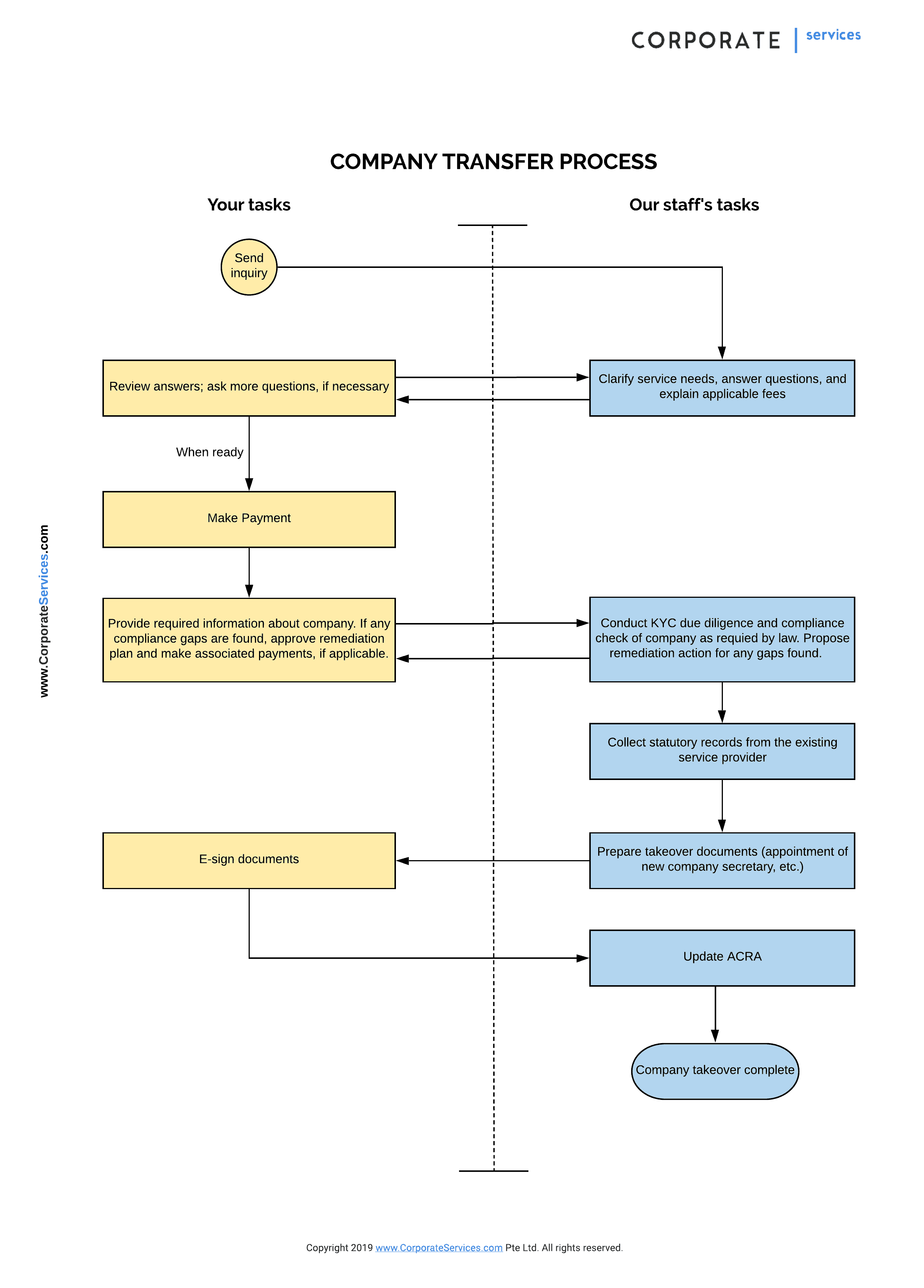 Recommendations
For both local and foreign entrepreneurs, the easiest way to administer their new or existing company in Singapore is through a high-quality corporate service provider.