For Existing Singapore Companies
We have created this package to address the increased demand for company transfers to us from clients of other service providers. These clients are frustrated with the high costs and poor after-sale service they are currently receiving. Our Transfer Package includes the following:
We will prepare the necessary paperwork and update ACRA with the appointment of our firm as the company secretarial agent for your company. Our package fee includes relevant government filing fees.
We will perform a FREE compliance check of your company's most recent filing obligations and notify you of any gaps.
Company Secretary service for 1 year; Singapore company law requires each company to appoint a local company secretary.
Filing of your company's Annual Return with ACRA .
You can add additional services  (e.g. Registered Address, Nominee Director, Tax Filing, etc.) to this package as per your needs and our relevant fees.
POINTS TO CONSIDER
It's a good idea to start your discussion with us on company transfer at least 1 month before your contract expires with the previous service provider. This will give you the time to confirm our services and us the time to understand your business and confirm our fees.
Many corporate service providers in Singapore tend to lock their clients in  multi-year contracts to cover for their poor service. Ensure that you are not stuck in such a situation before you engage with us.
Transfer Procedure and Timeline
Working with us is easy. Once you confirm your decision to engage our services, we will create an account for you in our online Corporate Service Platform (CSP) and you will be immediately collaborating with our service delivery team through the platform to get your company transferred quickly and efficiently.
The CSP will intelligently coordinate all these steps between you and our team online from start to finish:
Engage our services. Once you decide to proceed with us, we will create an account for you in our system, configure the requested services and assign your service request to you for making payment arrangements. You will be able to make payment via a credit card or bank transfer.
Check for compliance gaps. As the first order of business, w

e will perform a FREE compliance check of your company's filing obligations for the previous year and notify you of any gaps. You can then decide if you want your previous service provider to handle this for you or if you would like us to address these gaps. 

Obtain records from previous service provider. We will notify your previous service provider and arrange for collection of your company's existing records from them. Upon collection and our verification, we will notify you if any thing is missing and needs to be rectified.
Prepare transfer documents.

We will prepare the necessary paperwork to effectuate the appointment of our firm as the new company secretarial agent and submit them to you for signing.

Update ACRA. After your signatures, we will update ACRA with the appointment of our firm for your company.
Obtain new business profile. Once ACRA records have been updated, we will obtain an updated copy of your company's business profile from ACRA.
Complete post-transfer tasks.  Once your company has been transferred to us, we will set up your company's compliance profile in our platform and undertake those tasks on a moving forward basis.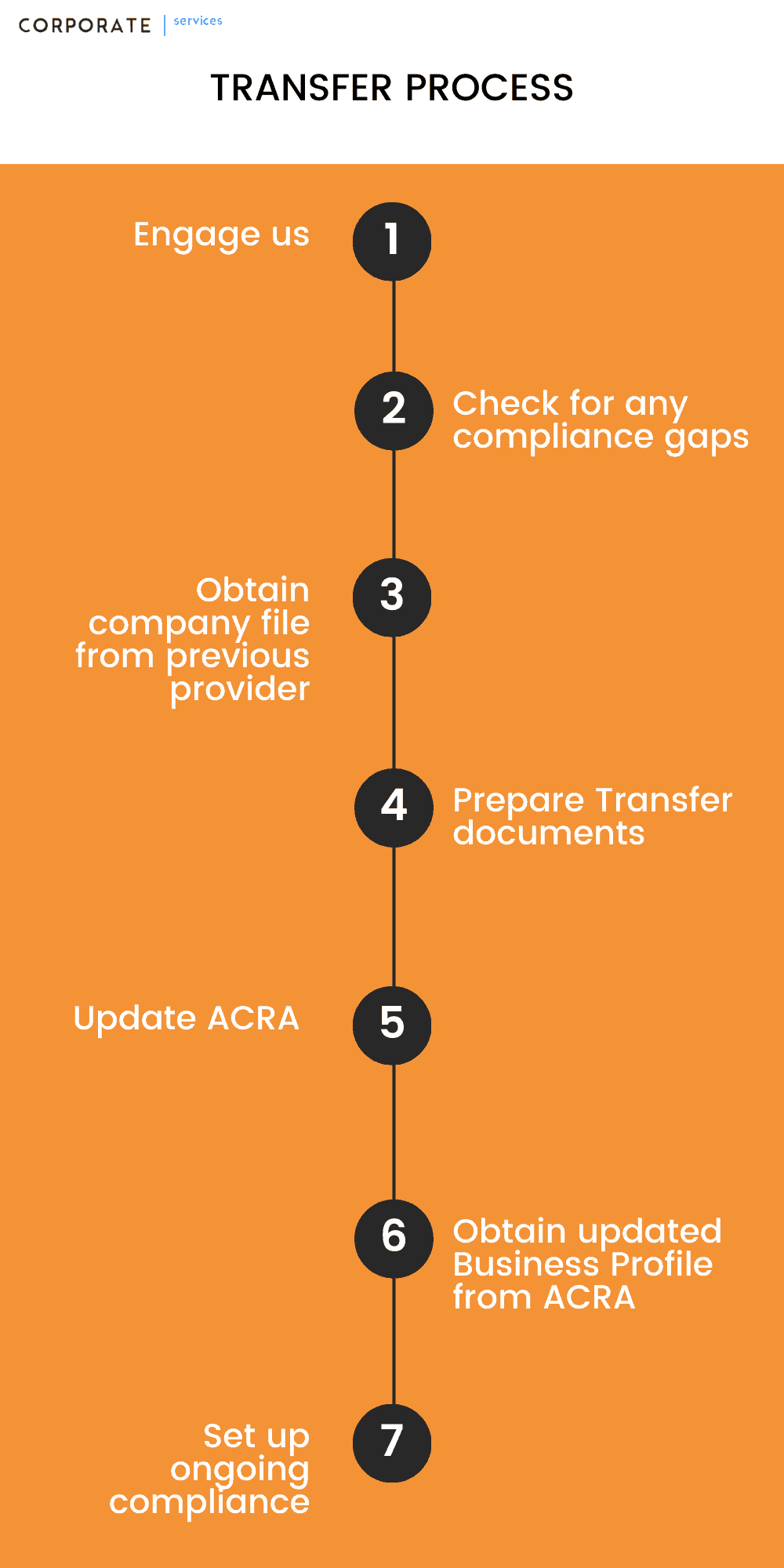 The complete transfer process as described above can take anywhere from 3 to 10 days. It will primarily depend on how fast you and your previous service provider can act.
The following supporting documents will be required from you for our KYC due diligence when transferring your company. Our compliance team may make exceptions if one or more of these documents are available from your previous service provider and they are acceptable to our team. Note that all documents must be in English or translated into English.
For each Director, Shareholder and Ultimate Beneficial Owner (UBO) of the proposed company:
Passport copy
NRIC copy for Singapore citizens and PRs (or FIN card for Singapore work pass holders)
Residential address proof (for example, a driver's license, a recent utility bill, rental agreement, etc.)
Brief professional background. This can be in the form of a curriculum vitae (CV), resume or link to the person's LinkedIn profile.
Frequently Asked Questions
Answers to some common questions
Ready to Help
Our service delivery team is on standby and ready to assist you
Why Us
Everything you need to get started, for one fixed price.
Includes Everything
Our packages include all services that are required to get you started. If you are not sure, contact us and we will be glad to help.
Fixed Price, no Hidden Costs
Whenever possible, we offer fixed-price service. We will inform you about all our fees upfront to avoid any surprises for you later.
Experienced Team
Our service delivery team has decades of experience; we will guide and collaborate with you throughout your engagement.
Superb Online Platform
Our platform makes incorporation and compliance a breeze. All information, all services, all status updates are available to you with a simple click.
Outstanding Service
Our service delivery team aims to exceed your expectations. Read our client testimonials to learn about the experience of our existing clients.
Satisfaction Guaranteed
We do not lock you into a long-term contract. If for any reason you are not satisfied with us, we will help you transfer to a new provider.
What are your options at the end of the 3 months?
What are your options at the end of the 3 months?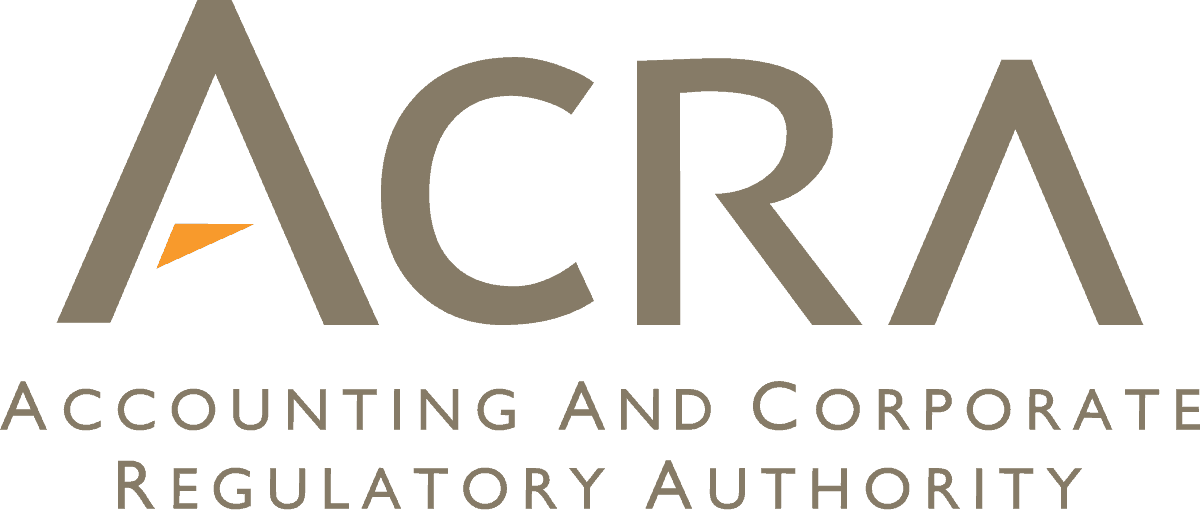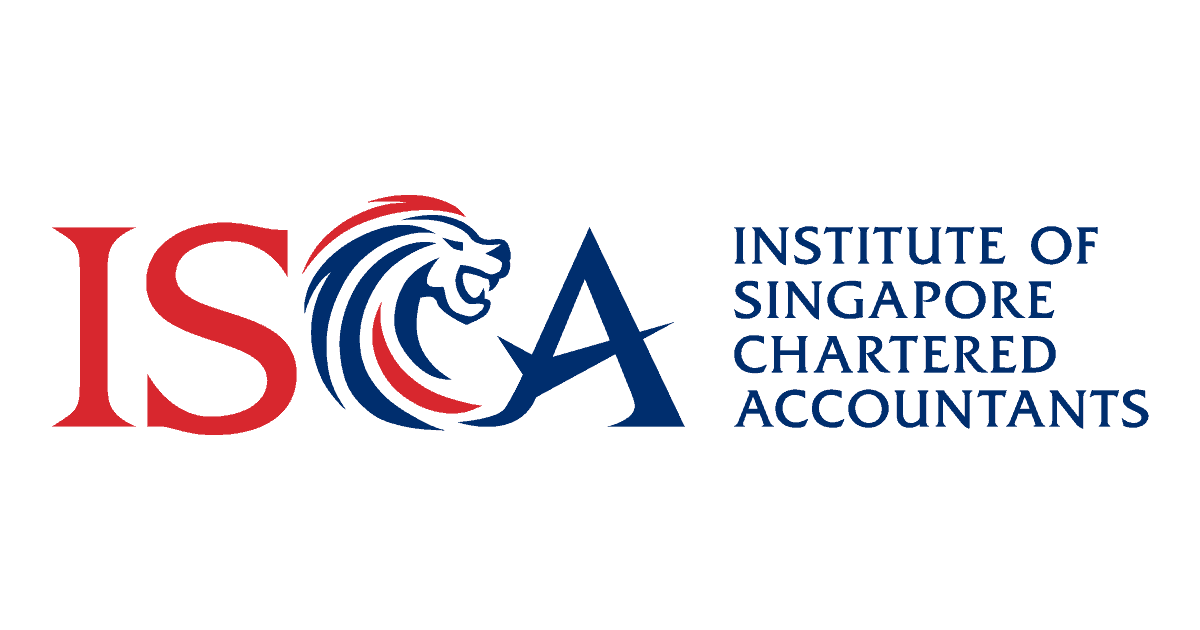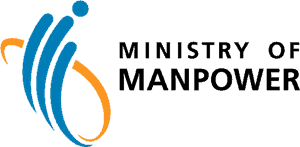 Ottavia is registered and authorized with the above organizations.